Alaró is an inland town near the Serra de Tramuntana, a natural area declared a World Heritage Site by UNESCO in 2011. Hence, it is an ideal starting point for excursions in Majorca. Undoubtedly, its main attraction is the spectacular castle of Alaró, a Christian fortification located on the top of a mountain, the Puig d'Alaró, at 822 m altitude. This feature makes this enclave an excellent viewpoint from which to contemplate the bay of Palma, the port of Alcúdia and the Serra de Tramuntana. 
The Puig d'Alaró also has interesting cisterns from the Muslim period. Moreover, on the road that leads to the castle, you will see one of the most famous restaurants in the area: Es Verger. This establishment opens its doors in a typical house with whitewashed walls and decorated with farm implements. Their specialty is Majorcan cuisine, so you will not find a better option to taste the most irresistible local recipes. 
On the other hand, if you like hiking, from Alaró you can walk the Pedra Seca ('dry stone') route, which will bring you closer to the most traditional architecture and legendary landscapes. 
With ROIG's rental cars in Majorca you can easily access this privileged corner of the island. Discover how! 
How to get to Puig d'Alaró by car 
To get to Puig d'Alaró, you must take the Ma-2100, which goes from Bunyola to Alaró. At the altitude of km 18,150, you must follow the signs until you reach a post that will point towards a detour to the left, which marks the start of the climb to the castle. A first section of this route will allow you to reach the Son Curt estate and, later, the Son Penyaflor estate, currently dedicated to agrotourism. Continuing along a concrete track, and about 200 m before arriving at the Cases d'Es Verger, starts the end of the ascent, a stone path that must be done on foot. That's when you'll have to park your rental car and put on your walking shoes. It will be worth it! 
Book your bus trip to Puig d'Alaró 
Although you already know how to get to Puig d'Alaró by car, you may prefer not to rely on a GPS during your holidays in Majorca. If so, the ROIG bus service is the solution, since we can organize an excursion to Puig d'Alaró by bus. If you want more information, contact us and tell us the approximate number of people who will take part in this activity. 
You can call us at (+34) 971 657 173 or send us an e-mail with your information to info@roig.com. With our buses for hire in Mallorca, getting to Puig d'Alaró has never been so simple. Check it out!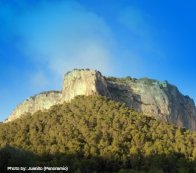 Discover more Rutas escénicas