DestacadoflotaTransfer2022EN
Cancelaciongratuita_2600x762EN
ProtocolosdeHigieneyLimpieza_2600x762EN
Bus service in Portopetro
If you are planning to travel as a group to Mallorca, either for a stag/hen party, a wedding, a convention or an event, you can trust our bus service in Portopetro. Your transfer from Palma airport to your destination on the island will be done with all the guarantees, without waiting and all the comfort you deserve.
This is what Roig offers you, a company dedicated to land transport, with taxi service and car rental in Majorca, since 1953. In this way, the bus service in Portopetro allows you to book a bus with a minimum capacity of 14 people and a maximum of 80, thanks to our large fleet of minibuses and buses. Trust Roig to transport large groups of people in Mallorca, you will not regret it!
What to see in Portopetro
Portopetro is a quiet village, where you can stroll around the small port calmly. Located in the southeast of the largest of the Balearic Islands, this town belongs to the municipality of Santanyí. The fact that it has no beach has slowed its development as a tourist town in comparison to other neighbouring towns, and this is precisely where its charm lies.
For this reason, once you have arrived at your hotel with our bus service in Portopetro, we recommend that you take a tour of the marina, where several llaüts, typical Majorcan fishing boats, are moored. If you are looking for a nearby beach, we recommend a visit to S'Amardor, located in the Natural Park of Mondragó. This fine sand beach is perfect to enjoy nature and take a dip in the Mediterranean. In addition, we recommend Cala Mondragó, a corner that is also located in the protected area of the same name.
Take a walk through the weekly markets full of stalls with hand-made products to discover the best that the craftsmen in the area. You can also go to Santanyí, where the market is held on Wednesday mornings, or to Felanitx if you fancy shopping on a Sunday.
Do not miss some of the best bus tours in Majorca, such as the Cabrera archipelago. This enclave was declared a National Park in 1993 and covers several islands that make up the archipelago. Here you will have the opportunity of entering mysterious caves, climbing an abandoned castle or spotting the incredible wildlife found in the park, such as the Eleonora hawk, Audouin's gull and even dolphins, if you're lucky. Remember that you need a permit to get here, so it's better to take this tour with a guide.
From Portopetro it is easy to reach the neighbouring Cala d'Or, where Roig has its headquarters. There you can visit Es Fortí, an 18th century military construction that, apart from discovering the history of the area, will allow you to attend other exhibitions and cultural events. If you prefer, in Cala d'Or you will also enjoy other activities, such as boat trips across the sea or a walk around its marina.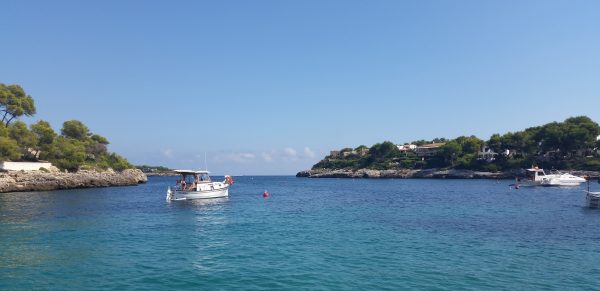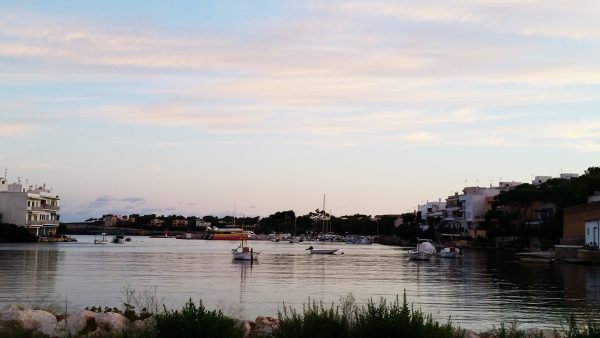 Advantages of renting coaches and mini-buses in Majorca with us
There are many reasons why we recommend hiring buses in Majorca with our company. Take a look!
• A large fleet of coaches. Are you looking for an efficient group transport solution? If you trust our team, you won't need to worry about the size of your group as we have vehicles between 14 (minibuses) and 80 seats. Book the one that best suits you, from a minibus to more spacious vehicles.
• Enjoy a constantly renewed fleet. Your comfort and safety comes first. Therefore, we offer you the most modern coaches on the market, with the latest technology and all the comforts you need for long road trips.
• Maximum security. In addition to having the latest mechanical and technological advances, we conduct periodic checks on all vehicles.
• The best luxury coaches. Although we guarantee maximum comfort, if you are looking for something really special, be it for a business meeting, a wedding or any other outstanding event, then there is nothing better than our VIP coaches.
• We deliver your coach upon your arrival in Palma. We want you to make the most of your getaway to Majorca. Therefore, if you wish, we will be waiting for you at Palma airport to take you to your vehicle. It's as simple as that!
• Free cancelation of your booking. So, in case of an unforeseen circumstances or a change of plans don't ruin your holiday, if you need to cancel your reservation, we won't charge you any cancelation fees. We only ask you to let us know as soon as possible.
• Adapted buses. We offer passenger transport solutions for everybody. If you want to book a bus adapted for people with reduced mobility or older passengers, just let us know.
• Personalized service. Our individual welcome and professional customer service is one of the factors that sets us apart. Get in touch with us and explain what you need. We will offer you the highest quality option that best suits your needs and your budget.
• Experts in transporting visitors since 1953. We are not only the leading road transport company in Mallorca: we also guarantee the highest quality vehicles and services, so that your holidays in the Balearic Islands are simply unbeatable
Discover
Mallorca
Plan your trip around Mallorca with our interactive guide. We know our island well and will be delighted to show you the best routes, beaches and scenery so you can explore the island and enjoy it as much as we do.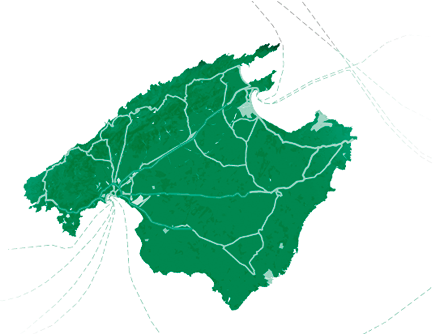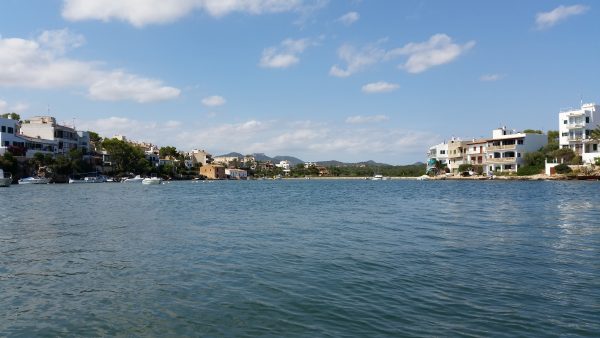 What to do in Portopetro
Deciding what activities your group will enjoy can be complicated at times. Here we leave you some ideas that you can easily have fun with thanks to our bus service in Portopertro.
Take advantage of the number of coves and natural beaches in the area and snorkel to discover all the fauna and flora that hides in seabed of this part of the Mediterranean. Posidonia, rainbow wrasses and even some barracuda are waiting for you to swim beside them. You can also venture to try a diving baptism in one of the coves, thanks to the several schools that are in the area.
On the other hand, if you like to play golf, near Portopetro you have the opportunity to test yourself on several greens. Play a game on the 18 holes of the Vall d'Or Golf if you want to practice your favorite sport during your stay on the island.
If you have children amongst your travel group, we recommend some activities they will thoroughly enjoy. We suggest a day out to the Drach Caves, formations that have existed for millennia and that have become one of the most popular attractions on the island due to the spectacular nature of the rooms that make it up.
Another alternative if you want to spend a day out with our bus service in Portopetro is a visit to Alcúdia, where you can admire its medieval remains and picturesque streets. We also recommend getting to know Sóller, a charming town that can be reached on the old tram that has been doing the same route from Palma de Mallorca for years.
Remember that once the fair, convention or event your guests have attended is over, your whole group can benefit from the transfer to Palma airport from Portopetro. Thus, one of our buses will pick up all the people at the agreed time so that the check-in is stress-free. Rely on Roig's service for an ideal trip.