Offices of
Slide
No extra charges on petrol
Collect your car with a full tank and return it full
All our prices are available on the website. There will be no compulsory supplements on arrival
Check out our Services section for full details of our free extras!
Add a second driver at no extra charge
Slide
You can cancel your reservation at no extra cost!
No more queuing!
We will be waiting with your car when your flight lands
A company offering a full range of services
We are the only company to offer the full range of road transport services
If you pay for the petrol in advance and take out fully comprehensive insurance cover
Slide
No higher rates for young drivers
Pay the same even though you are young
Payment on vehicle collection
No advanced payment is required
If you return the car before time we will refund the difference
The cheapest GPS on the market
Don't get lost in Mallorca. We offer you GPS at the best price
Slide
24 hour roadside assistance free of charge
We will be on hand in the event of an emergency and will replace your car at no extra charge
ROIG offers you the most exclusive models on Mallorca
You can modify your booking at no extra charge
We renew the fleet each season!
Guaranteed low mileage on the car you will be driving
Car rental in Mallorca airport
Are you looking for a car rental companiy in Mallorca airport? If so, we invite you to get to know our company. Roig brings you the best rent a car offers in Son Sant Joan, always at the best price and with a wide range of services so you do not have to worry about anyhting else other than making the most of your holiday.
Upon arrival, you can rent buses in Mallorca or a car with or without a driver (this also applies to the high-end rentals). And if you want an extremely comfortable transfer from Mallorca airport, you can also request a taxi to Palma or to any other point on the island. Forget about depending on bus timetables: with us, you will have access to a fast and reliable transfer service from Mallorca airport (or to it).
As always, you will have those services at the best prices and with an unbeatable service. Discover everything that we offer and get ready to drive around at your will.
Book rental cars in Mallorca airport
If you have just landed on the island and need efficient transport, we bring you the best rental cars in Mallorca airport, also known as Son Sant Joan. It is the third largest airport in Spain by number of passengers, only exceeded by those of Madrid and Barcelona, which helps understand its undeniable importance.del transporte público y elige entre las soluciones que Roig pone a tu alcance.

The airport is only 8km from the island capital's city center, Palma de Mallorca,located between the bay of Palma and the city, and in one of the most touristic areas of the Balearic islands. Being perfectly connected with Palma through the Levantas motorway, our Palma airport car hire is an ideal solution to move around Mallorca with total freedom.
And so you do not waste a minute of your holiday in Palma, we wait for you with your car in the airport parking lot. This will help you avoid long queues and you will be able to devote your time to what really matters, enjoying your getaway.
Do not think twice: if you want to take advantage of your stay on the island, do it without public transport and choose among the several solutions that Roig offers.

Your rental car in Palma airport with Roig
There are many reasons why it is worth relying on our car rental services at Mallorca airport. One of them is our extensive experience: since 1953, we are the leading company in passenger road transport in Mallorca.
In addition, we offer a eries of benefits that you will not find in other companies in the car rental business. With us you have the possibility to include a second driver free of charge, cancel or modify your booking without paying any penalties, access to free technical 24-hour assistance, receive a professional and personalized treatment and enjoy many other advantages.
For example, if you hire our insurance and leave a deposit for petrol, you will not need a credit card at the time of booking. And since we are talking about fuel, you will like to know that you will not have to pay any extra for it: you receive your car with a full tank and you will only need to return it in the same way. It's as simple as that.
In Roig, we want to make it easy for you: that's why you will not have to face unexpected or anticipated payments. When you hire your rental car in Mallorca airport, you can check all the prices on our website, with the peace of mind that you will not have to pay anything else when you pick up your vehicle. This is the result of our transparency and protection of consumer rights policies, distinguished by the seal of Good Practices of the Balearic Government.
With Roig you can even save money. Yes, you read correctly: if you decide to return your car before the expected time, we will pay back the difference.
There is still more: besides having the best car brands in the market, we also have a fleet that is renewed every season. Drive a rental car with low mileage and experience maximum comfort during your trips around Mallorca.
Want to try it out? We understand perfectly: aren't holidays all about resting? Let us take care of everything: with our car rental service with a driver, we'll take you wherever you tell us. And if you have a family or business event in Mallorca, take a look at our elegant luxury cars, ideal for weddings or to have a special moment with whoever you want.

Discover
Mallorca
Plan your trip around Mallorca with our interactive guide. We know our island well and will be delighted to show you the best routes, beaches and scenery so you can explore the island and enjoy it as much as we do.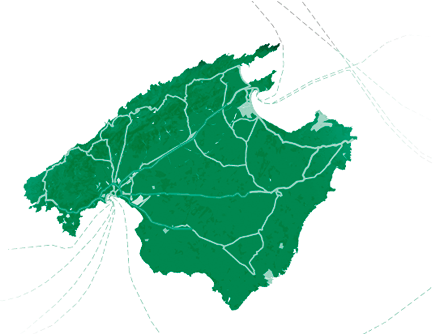 How to book your rental car in Mallorca airport
Have any doubts? Would you like to rent a car in Mallorca airport and want to know all the options available for you? In that case, we will be happy to answer all your questions.
You can call us at (+34) 971 65 71 73 from 8:00am to 8:00pm, continously. Our customer service team will help you choose the most appropriate option. Or if you prefer, you can also send us an email to info@roig.com, and we will answer as soon as possible.
If you need cheap and good-value-for-money rental cars in Palma airport,, get in touch with us. We will do everything possible so that you can travel to Mallorca in the simplest and safest way. Calvià, Magaluf, Andratx, Sóller, Alcudia, some of the best faces and beaches in Mallorca. You decide which destinations you want to visit and with what means of transport. We take care of all the rest.
In Roig, we are specialists in road transport. That is why we can provide you with the most appropriate options, considering your budget and your preferences as much as possible. Get in touch with us, rent your car at the airport in Mallorca and give yourself an unforgettable trip.