Discover the most amazing natural pools in Mallorca! This island is one of the Mediterranean's favourite tourist destinations. Why? It has that particular charm with its whitewashed villages, dream beaches and unique natural spots, offering a wide range of possibilities for the more adventurous. From exploring the Serra de Tramuntana mountain range, hiking trails or visiting a natural swimming pool in Mallorca.
Now it is possible to be your own tour guide thanks to companies such as ROIG, which provide you with rental vehicles to travel alone, as a couple or with your family all over Mallorca. Discovering the whole of Mallorca, with no timetables and with no other plan than to enjoy everything the island has to offer, is one of the main advantages of choosing to hire a vehicle at the best price with Roig.
Here is an overview of the best natural swimming pools in Mallorca, simply spectacular!
Sa Punta de n'Amer natural swimming pool
The swimming pool of Sa Punta de n'Amer is one of the most popular on the island and access to it is not too difficult. It can be reached in about half an hour from the car park of the tower of Sa Punta de n'Amer, which is also known by the name of Es Castell.
From the entrance to the tower, take the path towards Sa Coma, which is on the left if you look at the entrance and is the widest. After about 400 metres, the path allows you to take another turn, also to the left, which leads to the upper part of the quarries, offering a panoramic view that you will never forget.
From there you can find several routes to go down, some of them easier for children or those less inclined to cross country. Below awaits the natural pool, where the sea and the carved stone meet in a contrast as striking as it is beautiful. The water seeps between the rocks and gives rise to a whole series of small natural pools that offer a very pleasant bathing experience.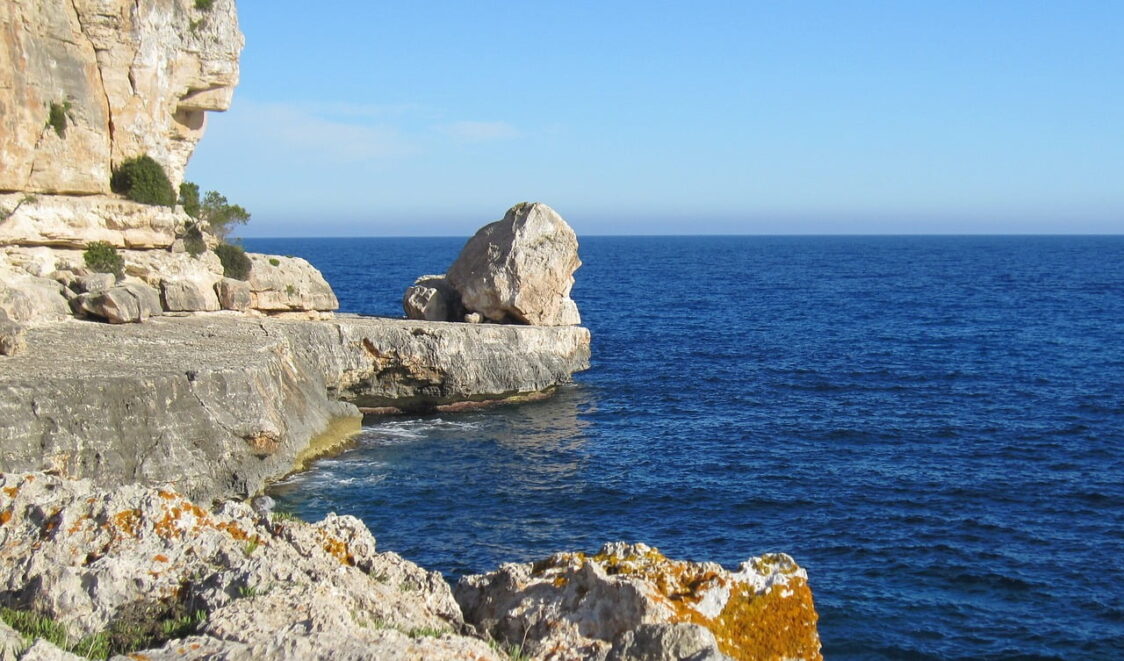 Cala Egos natural swimming pool
The natural pool of Cala Egos has recently become increasingly popular, in particular thanks to the spectacular photos of the place that have reached social networks such as Instagram and Facebook.
To get there you have to leave Palma in the direction to Cala d'Or, passing through the municipality of Santanyí. Once in Cala d'Or, continue towards Caló de Ses Gos, looking for the Apartamentos las Rocas, located on Avinguda es Fortí. Once you have found them, all you have to do is park wherever possible and start walking along the path located at roundabout number 18, taking the path on the right that takes you to an area of rocks facing the sea.
And here, before arriving, we will be able to enjoy privileged views like few others, as the pool is at a certain height. It is a pool that is not really natural at all because, although the space in which it is located is, the salt water from the sea is pumped into it by man.
The place is a very pleasant spot in which to enjoy the landscape and the refreshing water, which has a very particular charm as the rocks of the pool have been painted in that light blue that makes one think of swimming pools and which contrasts so much with the surrounding rocks.
Natural pools of the Llucmajor Delta
Within the Llucmajor Delta we find another of Mallorca's natural pools. They are much more natural and can be reached from the Mirador del Delta viewpoint. They also have the advantage that you can park relatively close by, where there is also a well-known bar-restaurant.
The viewpoint offers a view of two areas of natural pools, the coast towards Cap Blac on the left, where the pool is formed by the shelter of a rock that seems to partly isolate an entrance to the sea, and the coast towards Calvià on the right, with pools of old sandstone quarries. Both places are beautiful and equally worth a visit, as they are also very different.
Racó de sa Fragata natural swimming pool
Also known as Es Clot d'es Moro, this natural pool, which is actually a small cove, is located near the Illa des Toro viewpoint, next to a military area closed to the public that usually offers a quieter visit.
It can be reached by a fairly long staircase from the viewpoint, which is quite steep and takes about 20 minutes to descend and a little longer to ascend, a journey that requires attention to give way when more people go up or down, as there are no handholds or handrails of any kind.
At the bottom awaits the cove where swimming is highly recommended due to the beauty of the area, although it is not possible to fish or dive. The climb back up, however, can be a challenge for children or less experienced adults.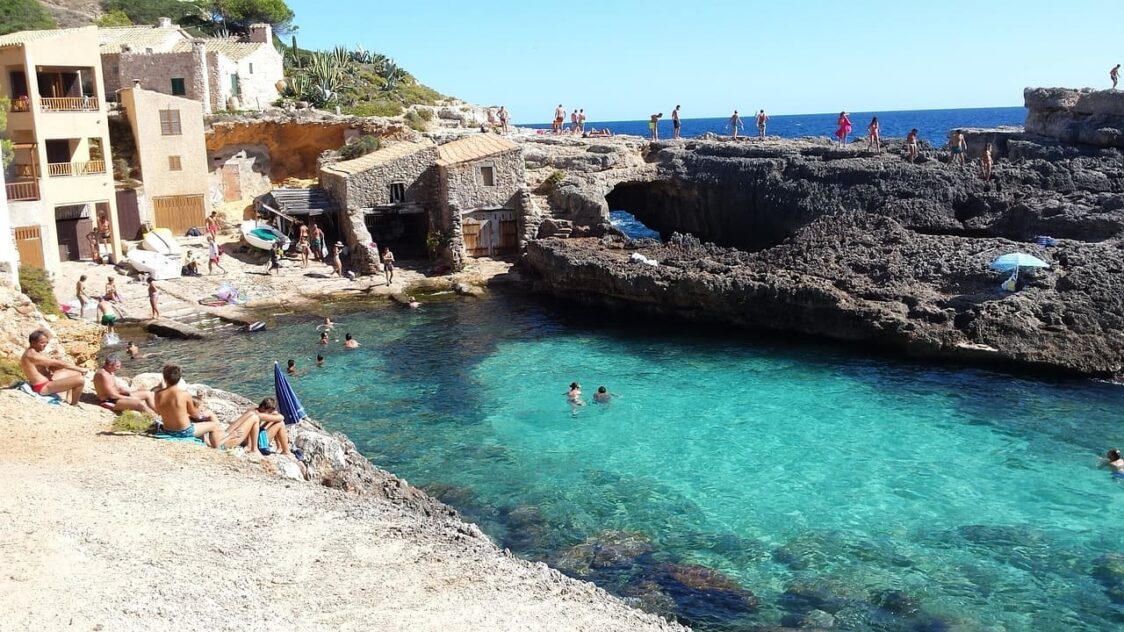 Everything you need to enjoy natural pools
Many of these natural pools in Mallorca are not natural pools at all, as they have been produced by the presence of old marés quarries, which is the name given in Mallorca to a specific type of sandstone rock that is quite common on the island.
Traditionally used and still used today as natural cement, marés stone is formed either by erosion processes or, as is more common in Mallorca, by mixing fossil shells and sand, which is why a large number of marés quarries are located on the seafront and have shaped some natural pools afterwards.
The marès is part of the roots of the island in a very literal way, being found in the construction of such iconic buildings of Mallorca as the Almudaina Palace or the Cathedral of Palma.
Visiting natural pools in Mallorca with children
Before moving on with your chosen natural pools route, it is important to mention that access to all of them is not always easy, which is why many of them are known as Mallorca's secret natural pools. Because of this, accessing them with small children can be complicated, but on the other hand, depriving the little ones from enjoying these unique landscapes would also be a shame. For this reason, there are some precautions and recommendations that can be taken so that, with care, children can also enjoy their visit.
Of course, it is very important that everyone, especially children, wear sports shoes that provide a good grip on the ground. Most of the routes to the coves or swimming pools are short, but even so, they consist of rocky or dirt terrain, so it is best to prevent accidents. Afterwards, once you have reached the area, it is best to change your shoes for water shoes.
Another detail is that in these places there is usually very little shade, so high factor sunscreen is vital for everyone, but especially for the little ones. Finally, carrying water and some snacks or pieces of fruit will make your stay much more pleasant, as there are no services of any kind in these places.
Remember: what comes with us goes back with us. It is important to protect these spaces so that everyone can enjoy them.