DestacadoflotaTransfer2022EN
Reviews for
Anne Vaudet
Nous avons loué un autocar de luxe chez Roig pour un déménagement ce mois. Il est très bien déroulé et les clients de l'entreprise ont été très satisfaits de l'expérience. Étant donné que notre franchise en Espagne organise de temps à autre des événements commerciaux, nous compterons à nouveau sur cette agence. Nous sommes reconnaissants du bon travail accompli.
10/10/2018
Paul Leduc
J'ai utilisé le service de se rendre de l'aéroport à mon hôtel à Playa de Muro. Le service a été très fiable et il avait un prix raisonnable. Il vaut la peine de réserver ce service chez Roig. Je vais l'utiliser dans les occasions futures.
10/10/2018
Éric Bonhomme
Pour fêter mon anniversaire de mariage, j'ai organisé pour moi et ma femme un voyage surprise à Majorque et j'ai loué une voiture de luxe avec chauffeur. L'expérience a été v incroyable pour les deux. Je remercie Roig pour son service client et son professionnalisme. Ils rendent tout très facile pour les clients !
10/10/2018
Cala Millor bus service
If you are looking for a bus service in Cala Millor, do not hesitate, Roig is the solution. With more than 60 years of experience in the transport business, we offer you all the comforts you need so that your trips to Majorca are in your reach, from a fleet of buses that is renewed every year to a shuttle service to Palma airport for groups that need a minibus to move around the island.
You will find the best prices in Roig's Cala Millor bus service. Call (+34) 971 65 71 73 to book your transfer to Palma airport or to make the transfer anywhere in Majorca for stag/hen parties, corporate conventions or trips in large groups. Book your bus to Cala Millor and discover one of the most popular spots of this Balearic island. You will not regret it!
What to visit in Cala Millor
In the east of Palma de Mallorca we find Cala Millor, a coastal town that is part of the municipalities of Sant Llorenç des Cardassar and Son Servera. Although you will find a beautiful beach where you can spend a dream holiday in the tourist centre, you can also easily move to other parts of the island to discover some charming spots, something that will be extremely simple with Roig's bus rental service.
For example, right next to Cala Millor we find Punta de n'Amer, a small peninsula where you will find vegetation and dunes. In addition, you can visit the castle of Amer, a 17th century tower from which you will have beautiful views of the Mediterranean and the surroundings of Sant Llorenç des Cardassar.
If you prefer hidden beaches, we recommend the beautiful Cala Morlanda, a rocky enclave with views of the cliffs that surround it. On the other hand, you can also enjoy our bus service from Cala Millor to Cala Ratjada, a 20-minute trip that will take you to a town where, on clear days, you can see the Menorcan city of Ciutadella.
Do you want to take a trip from Cala Millor? We recommend you visit the Llevant Peninsula Natural Park in Artá, either with our car hire service in Majorca or our fleet of buses for groups. Here you can enjoy one of the places with the best-preserved nature on the island, and even bathe in its crystal clear and calm waters.
Also, if you like history you can visit Ses Païses, an archaeological site from 1100 BC. In this complex you will find a town in a good state of preservation to know what life was like on the island during prehistory.
In addition, you can organize a bus tour to Palma to learn more about the capital of the island, visiting its cathedral, the old town, the Almudaina palace or the Bellver castle, an architectural jewel of the Middle Ages that will provide amazing panoramic views of the city and its surroundings.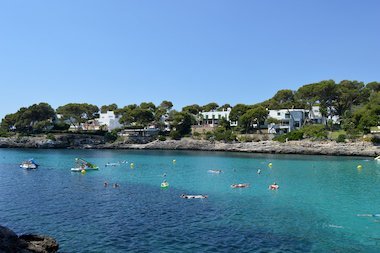 Advantages of renting coaches and mini-buses in Majorca with us
There are many reasons why we recommend hiring buses in Majorca with our company. Take a look!
• A large fleet of coaches. Are you looking for an efficient group transport solution? If you trust our team, you won't need to worry about the size of your group as we have vehicles between 14 (minibuses) and 80 seats. Book the one that best suits you, from a minibus to more spacious vehicles.
• Enjoy a constantly renewed fleet. Your comfort and safety comes first. Therefore, we offer you the most modern coaches on the market, with the latest technology and all the comforts you need for long road trips.
• Maximum security. In addition to having the latest mechanical and technological advances, we conduct periodic checks on all vehicles.
• The best luxury coaches. Although we guarantee maximum comfort, if you are looking for something really special, be it for a business meeting, a wedding or any other outstanding event, then there is nothing better than our VIP coaches.
• We deliver your coach upon your arrival in Palma. We want you to make the most of your getaway to Majorca. Therefore, if you wish, we will be waiting for you at Palma airport to take you to your vehicle. It's as simple as that!
• Free cancelation of your booking. So, in case of an unforeseen circumstances or a change of plans don't ruin your holiday, if you need to cancel your reservation, we won't charge you any cancelation fees. We only ask you to let us know as soon as possible.
• Adapted buses. We offer passenger transport solutions for everybody. If you want to book a bus adapted for people with reduced mobility or older passengers, just let us know.
• Personalized service. Our individual welcome and professional customer service is one of the factors that sets us apart. Get in touch with us and explain what you need. We will offer you the highest quality option that best suits your needs and your budget.
• Experts in transporting visitors since 1953. We are not only the leading road transport company in Mallorca: we also guarantee the highest quality vehicles and services, so that your holidays in the Balearic Islands are simply unbeatable
Discover
Mallorca
Plan your trip around Mallorca with our interactive guide. We know our island well and will be delighted to show you the best routes, beaches and scenery so you can explore the island and enjoy it as much as we do.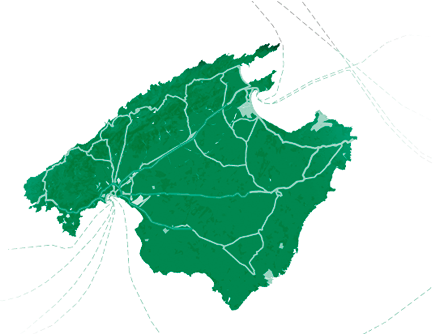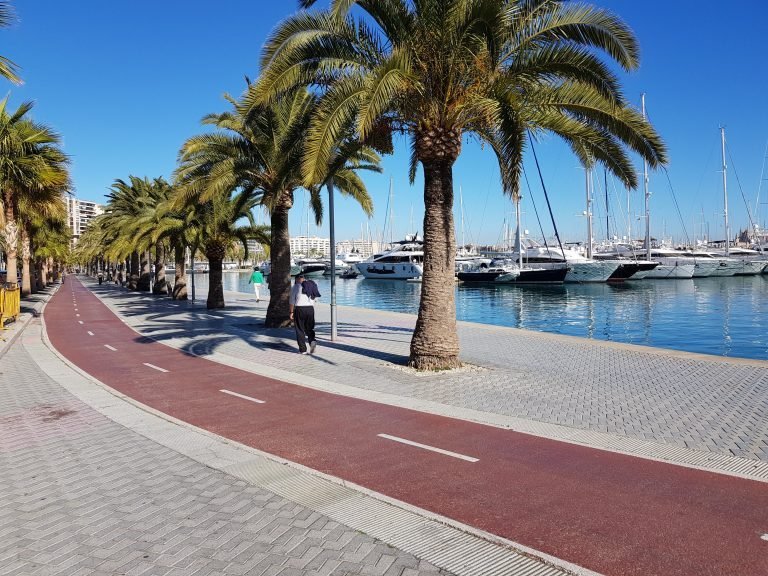 What to do in Cala Millor
Undoubtedly, the gastronomic offer in Cala Millor is a reason to celebrate. Savour the typical Majorcan cuisine by trying a tombet, a Majorcan soup and end with a traditional ensaimada in the best restaurants on the seafront. This scenario is perfect for a night out, in which our minibus can pick you and your group up so you can spend an evening in style.
Another of the best activities you can do in Cala Millor is to enjoy the sea by practising water sports. The great offer in this area allows you to go windsurfing, kayaking and even diving to get to know the seabed of this part of the island.
Very close to Cala Millor is Manacor, the second largest city in Mallorca and the place where Rafa Nadal was born. If you want to feel like one of the best tennis players in the world, you can come to play a game of tennis in one of the many courts in the city.
On the other hand, if you prefer to discover incredible corners of the island, we recommend you visit the caves dels Hams, where you can navigate through an underground lake surrounded by geological formations of karstic origin.
Another interesting idea that you can easily fulfil with our bus rental in Majorca is to book a tour around Formentor. Climb up to the viewpoint of Es Colomer to admire one of the best views of the bay and book a boat trip to the port of Pollensa.
Take advantage of Roig's bus service in Cala Millor so that your group trips are perfect, from the beginning to your transfer to Palma airport. You decide on the destination, we will take you to it!