DestacadoflotaTransfer2022EN
Reviews for
Éric Bonhomme
Pour fêter mon anniversaire de mariage, j'ai organisé pour moi et ma femme un voyage surprise à Majorque et j'ai loué une voiture de luxe avec chauffeur. L'expérience a été v incroyable pour les deux. Je remercie Roig pour son service client et son professionnalisme. Ils rendent tout très facile pour les clients !
10/10/2018
Paul Leduc
J'ai utilisé le service de se rendre de l'aéroport à mon hôtel à Playa de Muro. Le service a été très fiable et il avait un prix raisonnable. Il vaut la peine de réserver ce service chez Roig. Je vais l'utiliser dans les occasions futures.
10/10/2018
Anne Vaudet
Nous avons loué un autocar de luxe chez Roig pour un déménagement ce mois. Il est très bien déroulé et les clients de l'entreprise ont été très satisfaits de l'expérience. Étant donné que notre franchise en Espagne organise de temps à autre des événements commerciaux, nous compterons à nouveau sur cette agence. Nous sommes reconnaissants du bon travail accompli.
10/10/2018
Bus service in Calvià
Any event that requires transportation of large groups of people, such as a wedding, a convention or a farewell, can count on Roig's bus service in Calvià. Our company offers a fleet of buses of all sizes, to be able to transport from a group of 14 people in its minibuses, up to 80 people in its double decker bus.
Founded in 1953, Roig knows the trade of land transport to perfection. Therefore, you can book your transfer from Palma airport to Calvià for large groups with total security. In addition, you also have the option of renting a bus so that everyone can move around the island at their leisure, making as many stops as you wish. With Roig you will have the quality service and all the confidence that you deserve in your travels around Mallorca.
What to see in Calvià
Located at the foot of the Tramuntana mountain range, this villa is a fantastic spot to visit some of the most amazing places in Majorca. Stroll through the historic centre, which retains the charm of a traditional village to discover beautiful hidden corners. In addition, its mountainous enclave will allow you to climb Na Burguesa, a mountain range between the municipality of Calvià and Palma de Mallorca. Paths surrounded by nature begin in this spot, as well as the viewpoint of N'Alzamora, from which you will have great views of the capital and the Mediterranean Sea.
In addition, this area also hides several prehistoric sites that you can visit if you like hiking. Among the best known is the mound of Son Ferrer, located within the archaeological park of Puig de sa Morisca. Here you will find this burial mound and a spectacular sepulchral cave. Another place to visit is Ses Sínies, in Felanitx. This site from the Bronze Age is in the valley of the same name. Here there is also an ethnographic set where there is a caseta de roter made of dry stone, a material that has been used for centuries in this area.
Of course, we could not forget all the beaches and coves in the area of Calvià that will allow you to spend a fun day on the coast. The first is Cala Comtessa, considered one of the most beautiful in the area. It is located near Illetes and is surrounded by rocks and pine forests. For those who prefer to be near an urban centre, we recommend the beach of Illetes, perfect for families with children because of the number of services close to it. On the beach of Portals Vells there are two beautiful areas to bathe in blue waters. Also, if you follow the path that you will find, you can reach the cave of the Mare de Déu, which became a sanctuary when two ancient navigators carved the Virgin Mary after having survived a storm.
With our bus service in Calvià you can also move with the rest of your group to Andratx, a town that was walled to protect it against pirate attacks. Walk through its old town, where several buildings of interest such as the Curia, the 13th century church, and the mills of Sa Gaieta stand.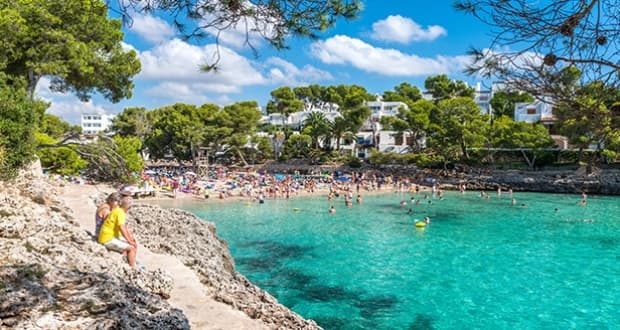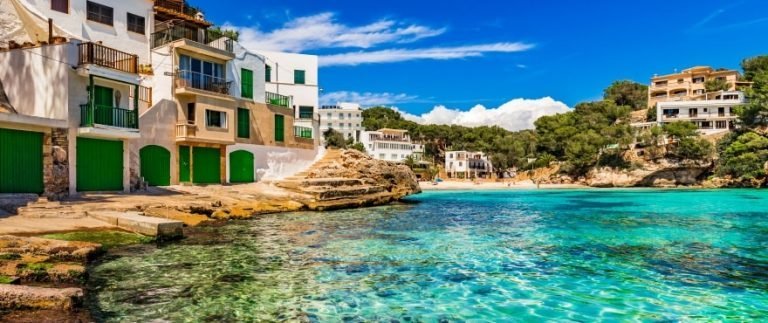 Advantages of renting coaches and mini-buses in Majorca with us
There are many reasons why we recommend hiring buses in Majorca with our company. Take a look!
• A large fleet of coaches. Are you looking for an efficient group transport solution? If you trust our team, you won't need to worry about the size of your group as we have vehicles between 14 (minibuses) and 80 seats. Book the one that best suits you, from a minibus to more spacious vehicles.
• Enjoy a constantly renewed fleet. Your comfort and safety comes first. Therefore, we offer you the most modern coaches on the market, with the latest technology and all the comforts you need for long road trips.
• Maximum security. In addition to having the latest mechanical and technological advances, we conduct periodic checks on all vehicles.
• The best luxury coaches. Although we guarantee maximum comfort, if you are looking for something really special, be it for a business meeting, a wedding or any other outstanding event, then there is nothing better than our VIP coaches.
• We deliver your coach upon your arrival in Palma. We want you to make the most of your getaway to Majorca. Therefore, if you wish, we will be waiting for you at Palma airport to take you to your vehicle. It's as simple as that!
• Free cancelation of your booking. So, in case of an unforeseen circumstances or a change of plans don't ruin your holiday, if you need to cancel your reservation, we won't charge you any cancelation fees. We only ask you to let us know as soon as possible.
• Adapted buses. We offer passenger transport solutions for everybody. If you want to book a bus adapted for people with reduced mobility or older passengers, just let us know.
• Personalized service. Our individual welcome and professional customer service is one of the factors that sets us apart. Get in touch with us and explain what you need. We will offer you the highest quality option that best suits your needs and your budget.
• Experts in transporting visitors since 1953. We are not only the leading road transport company in Mallorca: we also guarantee the highest quality vehicles and services, so that your holidays in the Balearic Islands are simply unbeatable
Discover
Mallorca
Plan your trip around Mallorca with our interactive guide. We know our island well and will be delighted to show you the best routes, beaches and scenery so you can explore the island and enjoy it as much as we do.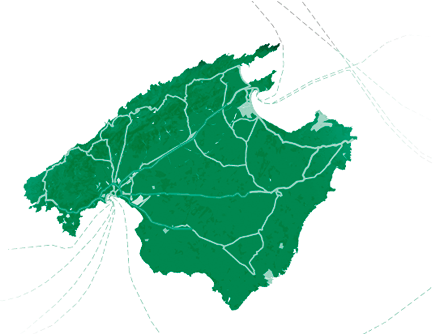 What to do in Calvià
Summarizing the number of activities that await in Calvià is a difficult task, so we leave you a brief description of the most recommended and fun to make your stay in Mallorca perfect.
Both adults and children will have a great time at the Katmandu Park, located in neighbouring Magaluf. This park has several attractions, among which, apart from an aquatic playground, we find the Kathmandu House, a fun building full of rooms with various optical illusions. In the same town you can visit the Wave House, the perfect place for all people who want to get started in the world of surfing in a perfectly safe environment.
The proximity of Calvià with the Tramuntana mountain range makes it an excellent place for hiking. Climb the Puig des Galatzó and admire the wonderful panoramic view offered by this peak in the southeast of Mallorca. Another easier route will take you to the Torrent de Santa Ponsa, where a path will lead you along the bed of this torrent until you reach the urban centre of the homonymous population.
If you prefer to stay in the town of Calvià, you should know that a traditional market is organized in the old town every Monday. Here you can stroll through the large number of stalls that sell all kinds of fresh products from the area, footwear and the most exquisite craftsmanship.
On the other hand, if you are considering taking a bus tour, we also have some recommendations. A short distance from Calviá you will find The Natural Park of Sa Dragonera, an uninhabited island in front of Sant Elm (Andratx). It is advisable to take a boat trip to admire its incredible fauna, including the famous Balearic lizards.
Whatever the occasion, remember that to transfer large groups of people by bus to Calvià you can count on Roig, the ground transportation service and trustworthy car rental in Majorca. Our company will also ensure that your transfer from Calviá to Palma airport is as calm as possible for you and your group, ensuring that you arrive on time to check-in without stress.