According to the latest edition of the Global Destination Cities Index, Palma de Mallorca is one of the 20 most visited cities in the world, with almost 9 million tourists. A figure that gives us an idea of the great pull of the Balearic capital, and reveals how much it can offer the traveler. Now, taking into account its numerous claims, it is inevitable to ask the following question: what to see in Palma de Mallorca?
Although we anticipate that we are going to fall short, here is a selection of its 10 most outstanding places and monuments, all of which deserve your attention (so that you can consult them more easily, we have sorted them in alphabetical order). Let's go!
1. Arab baths of Palma
Although there are very few visitors who have heard of this corner of Palma, this is one of the few examples of Muslim architecture in Majorca. It is a quadrangular floor room, with 12 columns that support a dome with small holes. This room was used as a thermal room. Hence, it had a double floor with holes where hot water and steam circulated. You will find them in Carrer de Can Serra, 7. The opening hours are from Monday to Saturday, from 10:00 a.m. to 6:30 p.m., and Sundays, from 10:00 a.m. to 6:00 p.m.
2. Bellver Castle
This Gothic construction of the early fourteenth century, located 2.5 km southwest of Palma, is one of the only four circular castles that are preserved in Europe. Located on a 112 m high hill, Bellver Castle offers magnificent views over the Palmesan city, its main port and Portopí, the Tramuntana mountain range – declared a World Heritage Site by UNESCO in 2011 – and the plain Central of Majorca. Are you going to miss it?
In 1931, the Second Spanish Republic offered the castle to the city of Palma along with the surrounding forest. Thus, it became a museum the following year. After being renovated in 1976, it went on to host the Museum of History of the City of Palma, which houses an interesting collection of classic sculptures by Cardinal Despuig. In turn, its courtyard accommodates numerous official and cultural events.
3. Cathedral of Santa María de Palma
We continue our list of what to see in Palma de Mallorca by stopping at one of the city's great icons: its spectacular cathedral. Built in Catalan Gothic style, it was constructed between the thirteenth and sixteenth centuries and is famous for its magnificent rosette – one of the largest in the world – and for the breadth of its interior spaces. Its main attraction, however, is its privileged location, in the acropolis of the Roman city of Palma, facing the sea, with the city walls at its feet and between the Almudaina Castle and the Episcopal Palace. Nor should we lose sight of the fact that some restorations are signed by Antoni Gaudí and Miquel Barceló. In 1931, the religious temple was declared a Historic-Artistic Monument.
4. Fortress of Sant Carles
On your itinerary around Palma de Mallorca, you cannot miss this small artillery castle located at the entrance of the city port and built for the defense of its inhabitants. It is currently inside the naval base of Portopí and houses the city's Military Historical Museum.
5. Church of Santa Eulalia
Located in the old town, this church witnessed the coronation of the king of Majorca Jamie II, on September 12, 1276. It consists of three naves, the central one being the highest, and it has two access doors. The bell tower, dating from the nineteenth century, is topped by a pointed capital. Very close, you will run into the Palma City Hall, which stands out due to its Mannerist facade (1649) and its Plenary Hall, whose walls hang portraits of illustrious palm trees.
6. Llotja de Palma
This imposing fish market, popularly known as Sa Llojta, is one of the masterpieces of civil Gothic art in Majorca and in Europe. This wonder is signed by the architect Guillem Sagrera, who directed the construction work between 1426 and 1447. The building has been the headquarters of the Merchants' College (colegio de Mercaderes). Behind its austere facade, an interior is embellished by beautiful helical columns that really deserve the traveler's attention. You will find it in Plaça de la Llotja, 5.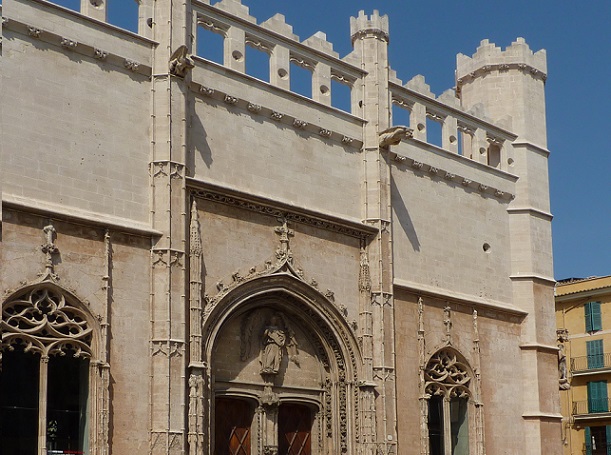 7. Mercat de l'Olivar
Built in 1951 and located in the historic center of Palma, it is a bright building with Mediterranean architecture, formed by two converging perpendicular ships that open onto a diaphanous square, with which it shares its name. Its facilities host stalls selling meat, fish, fruits and vegetables, and are a perfect opportunity to get closer to the delicious Majorcan dishes through fresh produce and quality raw materials. The market is open from Monday to Friday, from 07:00 a.m. to 2:30 p.m., and on Saturdays, from 07:00 a.m. to 3:00 p.m. It closes on Sunday.
8. Almudaina Palace
Also known as the Royal Palace or Alcázar Real, this magnificent palace is one of the residences of the Spanish royal family and is managed by the National Heritage public body. Known until 1309 as La Suda, it was rebuilt by Jamie II of Majorca, taking the Royal Palace of Perpignan, France, as reference. Its rooms host a magnificent collection of vintage furniture paintings, as well as spectacular tapestries. You can visit from Monday to Saturday (check the timetables, as these vary depending on whether the visit takes place during the winter or summer season) and has an audio guide service. A short distance away, the pleasant gardens of S'Hort del Rei unfold, loaded with Arabic reminiscences.
9. Plaça Major
Despite having about 410,000 inhabitants, Palma de Mallorca shares some peculiarities with the more traditional villages of Majorca. Good proof of this is the vitality enjoyed by its Plaça Major, or main square, which is one of the most important in the city. This urban reference was built during the 19th century on a plot that until then had been occupied by the convent of Sant Felip Neri and some adjoining buildings. From there, some of the main streets of the city begin, such as Sant Miquel or Colom.
10. Poble Espanyol de Palma
Even though it is more modern, this tourist spot has many similarities with the Poble Espanyol in Barcelona. Built between 1965 and 1967 by the architect Fernando Chueca Goitia in the Son Espanyolet neighborhood, this site brings together examples of the typical architecture of various places in Spain. It occupies a total area of 6,365 m² and in it you will find representations of various buildings, squares and streets from several Spanish cities. In addition, the place also hosts examples of folk crafts, as well as exhibitions, conventions, congresses and other events.
However, we could not close this list about what to see in Palma without reminding you that this city can boast some of the best museums in Majorca, such as the Diocesan Museum, the Juan March Foundation Museum, the Pilar and Joan Foundation Miró, Es Baluard Museum of Modern and Contemporary Art of Palma or the Can Balaguer Cultural Center.
Of course, we must not forget that you can always get one of our rental cars in Majorca and start exploring the island's geography, where magnificent beaches, coves and caves that will take your breath away await.
As always, we will be delighted for you to share other ideas of places to see in Palma with us. We look forward to your contributions!