Transport services for weddings in Majorca
Is the day you are going to tie the knot approaching and need to have everything well organized so that everything turns out as planned? Surely by now you are taking care of all the details: from the decoration, the menu and even the music that will be played, but especially everything related to transfers for your guests and the car in which both the bride and groom will arrive. One of the options to ensure that there is no setback, is to trust a company that offers comprehensive transport services for weddings in Majorca so that everything is managed by the same firm. Lucky you! ROIG is your trusted transport company that will allow you to live the dream day you have always imagined. Discover all the services we have prepared for you to have a perfect wedding.
Cars for weddings in Mallorca
Without a doubt, one of the most important moments of the ceremony is the arrival of the bride to the church or place of the event. So that this moment is as you always dreamed it would be, ROIG Premium wants to offer you a fleet of high-end cars among which you can choose from to arrive at your wedding in the most elegant way. Among them, the bride and groom can choose between several high-end Mercedes-Benz models, which will be driven by one of our professional drivers to take both the groom and the bride to their triumphal entry. Leave everyone with their mouths open when you arrive with a car from our fleet, which is renewed every year so that you only have the best.
But we must not forget about the guests. If there are people coming from other parts of the country or the world, we can arrange a transfer service from Palma airport to your hotel. Our team will be waiting at the exit door at the time of your arrival so as not to waste a minute of your time. In addition, if attendees want to drive on their own, we also offer a large fleet of rental cars in Majorca so that they can move freely and at their own pace.
Now you know, ROIG offers a great range of cars for weddings in Majorca with and without a driver, you only need to contact ROIG PREMIUM via e-mail and we will give you a closed budget.
Discover
Mallorca
Plan your trip around Mallorca with our interactive guide. We know our island well and will be delighted to show you the best routes, beaches and scenery so you can explore the island and enjoy it as much as we do.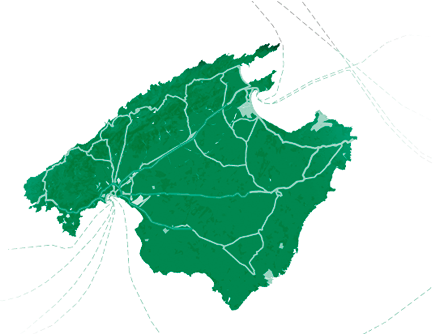 Buses for weddings in Majorca
There are intimate, medium-sized weddings and others in which the list of guests seems to have no end. In ROIG Bus we have this in mind, and for this reason we have many options. Whether you want a ceremony in a hidden cove or are going to go from the church to a beautiful country house, you will have a bus and minibus service at your disposal, so that you can all move with total comfort from one place to another.
You choose, ROIG Bus offers a fleet of buses for weddings in Majorca ranging from small minibuses sitting up to 16 guests, ideal for those who do not have a car or will not be staying to sleep in the vicinity of the place where the banquet is held, or those who need a transfer to the airport; even the biggest buses that have a capacity of between 24 and 80 people. In addition, you also have the option of renting a luxury bus, so that guests travel with the maximum possible comfort and accompanied by the latest technology in road transport.
No matter the distance to travel, the number of stops you want to make or the time you need these services, with ROIG Bus all the people who attend your wedding will arrive safely and punctually to each of the points that you have chosen to celebrate your nuptials with your loved ones.
Wedding preparations in Majorca
Whether you want cars for weddings in Majorca for the bride and groom to get to the ceremony in the most elegant way, or if you want attendees to be transported comfortably everywhere with buses for weddings, ROIG is your place to be.
We offer a comprehensive transportation service for those special occasions in which every detail counts. For this reason, we take care of absolutely all the transfer needs that you and your guests have during these sweet days. We will not let you miss anything, we will have all the schedule studied and prepared, with a list of drivers and services that you will need at all times, and we will arrive at each stop on time.
Rely on the services of ROIG, a land transport company in Majorca with more than 50 years of history, offering the best cars and the most professional and experienced workers on the island. The benefits we offer you include a fleet that is renewed year after year, ideal so that each of the vehicles you need in your wedding are always in perfect condition; drivers who know the territory of Majorca like the palm of their hands and who will take into account all of the couples' requests needs; a familiar and warm treatment so all our clients can trust us; and complete transparency, so that you do not encounter extra expenses once you have given your approval to the budget that we will propose.
Now you have read about everything you need to know, if you need transport services for weddings in Majorca, you can trust ROIG, the only thing you have to do to book is to send us an e-mail to info@roig.com specifying the vehicles you need and the date of your wedding so that all the transfers you need are made just as you had in mind.