Few places can compete with the beaches of Majorca, but we assure you that, on this island, there are. In fact, this destination on the shores of the Mediterranean is also ideal for those who enjoy spending a morning or an afternoon surrounded by canvases and sculptures. And so you can check it out by yourself, we bring you a list of the 12 best museums in Majorca.
With our coach rental in Majorca or our rental cars, you can visit them in the fastest and most comfortable way, without worrying about public transport. If you are passionate about cultural tourism, you have reached the right place. We recommend that you continue reading, because what comes next will help you spend an ace holiday in Majorca.
Museum of the Royal Palace of Almudaina
Many tourists remain enraptured contemplating the cathedral of Palma de Mallorca, to the point of not noticing other nearby landmarks that are no less striking. One of them is the Royal Palace of Almudaina, the historical residence of the Majorcan kings.
The walls of this building are witnesses to the history of the Balearic Islands, from the megalithic settlements to the present. The building, of Roman origin, is a modification of a Muslim fortress built between 1281 and 1343, during the reigns of Jaime II, son of Jaime I the Conqueror; Sancho I and Jaime III. Legend has it that Jaime II went there daily to pray, since he was a very pious man. The interior rooms are decorated with tapestries, beautiful paintings and elements of Gothic and Islamic architecture.
You will find this monument in the street of Palau Reial, S / N, Palma.
Diocesan Museum of Palma de Mallorca
Created in 1916, it is located in the oratory of Sant Pau and in a wing of the Palau del Bisbe, in Catalan and Baroque Gothic style. Its origin goes back to the collection formed from 1878 by Bishop Mateu Jaume Garau, who gathered works from various Majorcan churches and monasteries. The permanent exhibition is divided into different sections: archeology, religious sculpture, modern ceramics, Séguier legacy, sacred art, numismatics and bibliographic oddities. The best-known pieces are the altarpiece of Sant Jordi de Pere Niçard and some works by the Valencian Renaissance painter Juan de Juanes, as well as the Drac de na Coca, a 17th-century embalmed crocodile that was the base to a popular local legend.
You will find it on Carrer del Mirador, 5, Palma.
Juan March Foundation Museum
Located in a former Palmesan mansion, this institution accommodates an interesting collection of works of Spanish art of the twentieth century, with works by the most relevant authors of the first avant-garde, such as Pablo Ruiz Picasso, Juan Gris, Joan Miró or Salvador Dalí. There are also samples of the different movements of the middle of that century and of generations of more recent artists. Visiting hours are Monday through Friday from 10:00 a.m. to 6:30 p.m. and Saturdays, from 10:30 a.m. to 2:00 p.m.
You will find it on Carrer Sant Miquel, 11, Palma.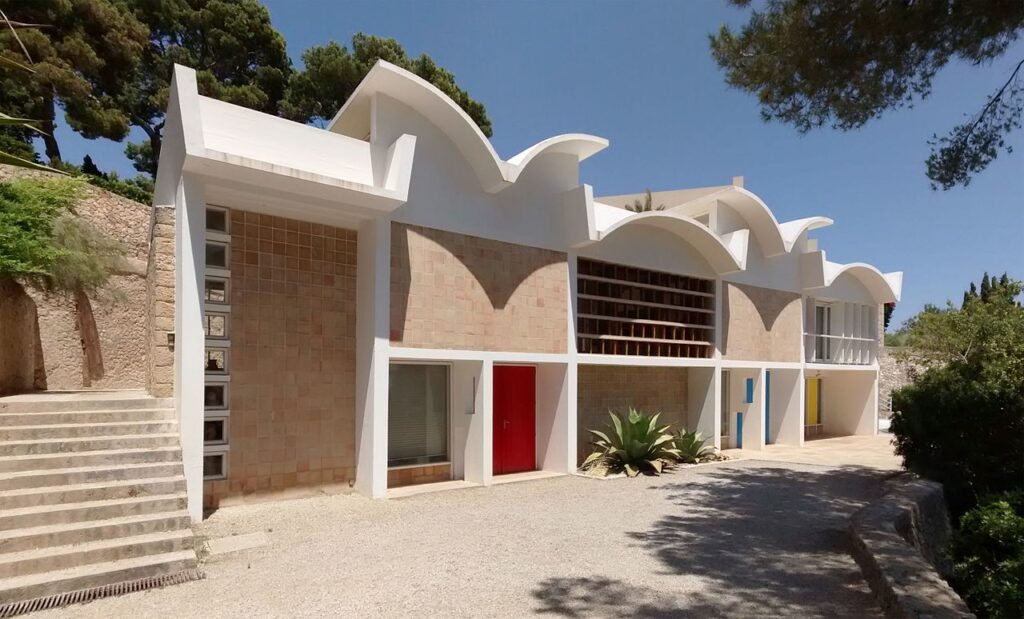 Pilar and Joan Miró Foundation
This entity was created in 1981 at the wish of the painter Joan Miró and his wife, Pilar Juncosa, with the aim of providing Palma with a cultural and artistic center. His funds include an important collection of nearly 6,000 works by the artist from Barcelona, including paintings, sculptures, drawings, sketches and other documents of great historical and artistic value. The foundation also organizes temporary exhibitions.
Visit it on Carrer de Saridakis, 29, Palma.
Es Baluard Museu d'Art Modern i Contemporani de Palma
More recent than the previous ones, Es Baluard Museu d'Art Modern i Contemporani de Palma, was opened in 2004 and is also one of the best museums in Majorca. In it you will find a fund of more than 700 works of art of great interest, made by local and international artists.
The museum is in Plaça de la Porta de Santa Catalina, 10, Palma.
Can Balaguer Cultural Center
One of the last museums in Palma to join the list is Can Balaguer, a museum of decorative arts that opened its doors for the first time in 2017 and aspires to be the future City History Museum. Upon entering, you will find an exhibition about the origins of this entity. However, the main course is the noble floor, an example of how the stately homes of the eighteenth, nineteenth and early twentieth centuries were.
In Carrer de la Unió, 3, Palma.

Poble Espanyol
We still do not leave the island capital, the best place in Majorca to see museums, as it is worth visiting the Spanish Village. As in the case of the tourist attraction in Barcelona with which it shares its name, it is an open-air museum located in the Son Espanyolet neighborhood. This attraction was built in 1965 and opened its doors in 1967 with one purpose: to show the typical architecture of the diverse towns of Spain through the recreation of representative buildings, streets and squares. To this we must add, in addition, some samples of popular crafts. The project was carried out by the architect Fernando Chueca Goitia and occupies an area of 6,365 m².
Visit it on Carrer del Poble Espanyol, 55, Palma.
Robert Graves House
The British poet Robert Graves (1895-1985) lived in Deià, one of the most beautiful villages in Majorca, from 1929 until his death. The author is buried in the cemetery of this town, next to the church. As for the house where he lived, it was acquired by the Robert Graves Foundation and was opened to the public in the summer of 2006 as a museum. If you want to approach the legacy of the English writer, do not hesitate to visit this exhibition space. Visiting hours are from Monday to Friday, all day, and Saturday mornings (exact times change depending on whether it is the summer or winter season).
It is located on Carretera de Sóller, 6, Deià.
Can Prunera Modernist Museum
In Sóller, one of the most picturesque villages in the Tramuntana mountain range, you will find this impressive mansion with a noble floor, three floors, built between 1909 and 1911 by Joan Magraner Oliver, aka Joan Prunera. Converted into a house-museum in August 2009, it houses a collection of contemporary art from the 19th and 20th centuries of national and international artists, mainly pictorial. A small part are works from the second half of the 19th century and the first half of the 20th century, highlighting works by Joan Miró.
Can Prunera is in the street of Sa Lluna, 86-90, Sóller.
CCA Andratx
The Andratx Contemporary Art Center is dedicated to modern art and is also one of the best museums in Mallorca. Its interior accommodates a permanent exhibition of paintings, sculptures and photography by local and international artists and also offers the possibility of acquiring some of the works that are exhibited there. There are also workshops for residents. The center, which organizes guided tours in several languages, closes on Mondays.
You can visit it on Calle de la Estanyera, 2, Andratx.
Frédéric Chopin and George Sand Museum
The Valldemossa Charterhouse can boast having hosted two illustrious guests in the winter of 1838 and 1839: the composer Frédéric Chopin and his partner, the writer George Sand. A stay that was most fruitful: while Chopin composed the preludes of Op. 28, Sand wrote 'A Winter in Mallorca'. Today, this religious enclosure allows the visitor to approach the legacy of both and contemplate the original piano that Chopin used during his holidays. The Valldemossa Charterhouse opens from Monday to Saturday, from 10:00 a.m. to 6:00 p.m., and Sundays, from 10:00 a.m. to 2:00 p.m.
Yannick and Ben Jakober Sculpture Park
We close this review of the 12 best museums in Majorca with this tourist attraction, ideal for those who are thinking about traveling with children to Majorca. It is a zoo where stone sculptures that depict different animals are exhibited. In addition, the site also has a museum of modern art, a rose garden, a gazebo and a cafeteria. Open daily from Monday to Saturday, from 10:00 a.m. to 6:00 p.m. From Palma, or from any other corner of the Majorcan geography, you will get there easily with our taxi service in Majorca.
You will find it on Carretera de Collbaix, S / N, in Alcúdia.
Have you already visited some of these museums in Majorca? Do you want to recommend other options? If so, do not forget to send us your comments.