Offices of
Slide
No extra charges on petrol
Collect your car with a full tank and return it full
All our prices are available on the website. There will be no compulsory supplements on arrival
Check out our Services section for full details of our free extras!
Add a second driver at no extra charge
Slide
You can cancel your reservation at no extra cost!
No more queuing!
We will be waiting with your car when your flight lands
A company offering a full range of services
We are the only company to offer the full range of road transport services
If you pay for the petrol in advance and take out fully comprehensive insurance cover
Slide
No higher rates for young drivers
Pay the same even though you are young
Payment on vehicle collection
No advanced payment is required
If you return the car before time we will refund the difference
The cheapest GPS on the market
Don't get lost in Mallorca. We offer you GPS at the best price
Slide
24 hour roadside assistance free of charge
We will be on hand in the event of an emergency and will replace your car at no extra charge
ROIG offers you the most exclusive models on Mallorca
You can modify your booking at no extra charge
We renew the fleet each season!
Guaranteed low mileage on the car you will be driving
Rent a Car in Mondrago Natural Park
If you want to rent a car in Mondagó Naturaal park for your next holiday in Mallorca, ROIG has a lot to offer you. With 70 years of experience, we are the only company in the Balearic Islands that offers a complete service for passenger transport by road. 
In addition to car rental, which allows you to move around the island with total freedom and whose fleet is renewed year after year, we also offer luxury cars, with or without driver, as well as coaches that will take you on the route you want or to the excursions planned for your stay.

Discover all the advantages that our car rental can offer you. In our offices in Cala d'Or, just 7 kilometres from Mondragó Natural Park, you will find your reliable Rent a Car.
What to see in Mondrago Natural Park
The Mondragó Natural Park, declared in 1992, is a protected natural reserve. It is located in the municipality of Santanyí and is one of the most visited destinations in Mallorca. Its flora and fauna, characteristic of the region, form unique landscapes that combine the sea and the mountains. Within the park there are different routes and circuits to get to know it better. Many of these routes are also suitable for excursions with children. 
A very striking feature of this environment is the union of two beaches: Mondragó beach and S'Amarador beach. Mondragó beach, which can be reached from Santanyi, has a parking lot 5 minutes walk from the beach and next to it is the park's information point, where you can get information about all the routes. At this beach there is a shower service to remove the sand, a restaurant with lunch and dinner service and the beginning of some of the routes. The beach of S'Amarador, which can be accessed from the municipality of Felanitx, has a parking lot less than 500 metres from the beach, from where the rest of the routes of the Natural Park begin. 
The connection between these two beaches is made by a path that surrounds the sea, where you can see numerous boats and many bathers who enjoy this magnificent place during summer. 
Just 15 minutes walk away, about 1 kilometre, and passing the small cove of Caló d'es Borgit, is the cove of Sa Barca Trencada. This cove of fine white sand and crystal clear waters has a beach bar and a dive shop and is surrounded by Mallorcan pine trees, scrubland and holm oak forests. There is free parking near the beach, and if you are looking for a longer walk, you can walk along Cap des Moro to Punta des Savinar.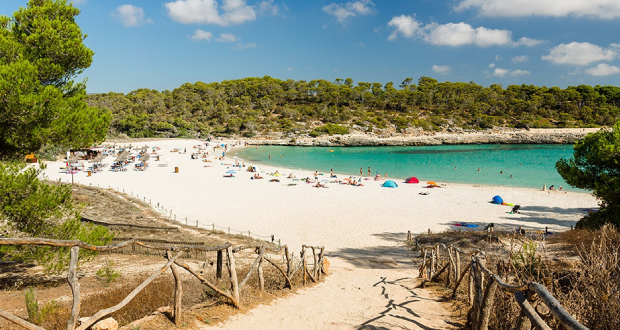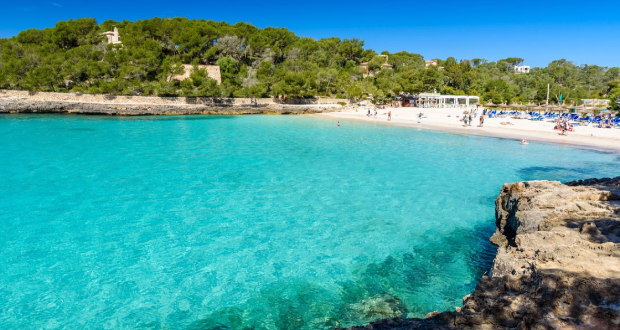 Advantages of renting a car in Mondrago Natural Park with ROIG
If you want to visit these and many other interesting places, rent a car in Mondragó Natural Park, at the best price and with numerous advantages: Possibility of a free second driver, free cancellation, fleet annually renewed…
For more information about our services, call us without obligation at (+34) 971 65 71 73, from 08:00 to 20:00 without interruption or send us an email at info@roig.com. We will get back to you as soon as possible.
We have the best rental cars in Mondragó, with or without a chauffeur. Do not let anything dictate you and enjoy a unique trip to Mallorca! Palma, Pollença, Sóller… With ROIG they are within your reach.
Discover
Mallorca
Plan your trip around Mallorca with our interactive guide. We know our island well and will be delighted to show you the best routes, beaches and scenery so you can explore the island and enjoy it as much as we do.