RENTAL CAR DEALS IN MAJORCA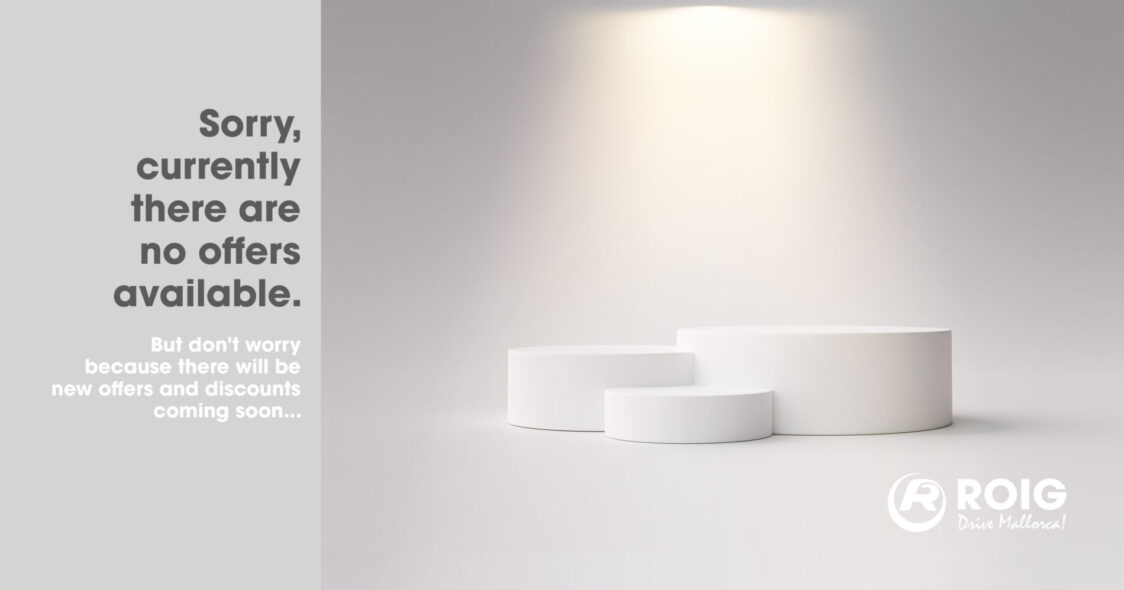 WOULD YOU LIKE TO BE THE FIRST TO KNOW ABOUT ALL OUR OFFERS?
SIGN UP FOR OUR NEWSLETTER AND YOU WILL RECEIVE ALL THE INFORMATION YOU NEED.
Slide
No extra charges on petrol
Collect your car with a full tank and return it full
All our prices are available on the website. There will be no compulsory supplements on arrival
Check out our Services section for full details of our free extras!
Add a second driver at no extra charge
Slide
You can cancel your reservation at no extra cost!
No more queuing!
We will be waiting with your car when your flight lands
A company offering a full range of services
We are the only company to offer the full range of road transport services
If you pay for the petrol in advance and take out fully comprehensive insurance cover
Slide
No higher rates for young drivers
Pay the same even though you are young
Payment on vehicle collection
No advanced payment is required
If you return the car before time we will refund the difference
The cheapest GPS on the market
Don't get lost in Mallorca. We offer you GPS at the best price
Slide
24 hour roadside assistance free of charge
We will be on hand in the event of an emergency and will replace your car at no extra charge
ROIG offers you the most exclusive models on Mallorca
You can modify your booking at no extra charge
We renew the fleet each season!
Guaranteed low mileage on the car you will be driving
ROIG is the only company that offers a comprehensive passenger transport service in the Balearic islands. As well as being the best option to rent a car in Majorca– with or without a chauffeur, as well as luxury vehicles-, we also offer you the opportunity of renting coaches or doing your transfers with a taxi in Palma, at the Son Sant Joan or any other point of the island.
For us, your satisfaction and calmness is a priority. This is why you can choose among a great fleet that is renovated anually, which will allow you to drive cars with low mileage and maximum comfort, plus, with amazing discounts, promotions and other amazing deals for your rental car in Majorca.
For your total satisfaction, we will give you a personalized and professional treatment that is adjusted to your needs. We are at your disposal for whatever you need, to solve your doubts and help you make the most of your holidays in Majorca with our rent a car.
So check out our rental car offers in Mallorca featured on our carrousel. You will be pleasantly surprised!
ADVANTAGES OF ROIG CAR RENTALS IN MAJORCA
We believe that the best attention does not have to be expensive. Therefore, we invite you to discover our incredible rental car deals in Majorca. From the possibility of booking your vehicle at the best price – for example, we regularly launch promotions that will allow you to enjoy your rental car from only € 17 per day – to our incredible discounts on booking price.
In any case, the benefits of betting on ROIG go much further. Here we summarize the most important:
Slide
• We renew our cars every season. Who does not like to get behind the wheel of a practically new vehicle, just after leaving the dealership? That is precisely what we offer. Choose from a wide catalog of models and the most important brands in the market and get ready to travel around Majorca freely.
• Exclusive services (and without added cost). So that your satisfaction is total, we are not satisfied with offering the best vehicles: we want your experience to be unbeatable from the first moment. Contact us without obligation and discover the facilities that ROIG gives you (for free!).
• We deliver the car to you at Palma airport. Do not waste a minute on your trip to Majorca: if you wish, you will have your vehicle from the moment you get off the plane. We take care of it.
• We are specialists in fully-comprehensive transport. You will not find any other agency that also manages coach rentals in Majorca – perfect for company events, bachelor parties and family celebrations – and that can send you a taxi where you need
• Rent your car without a credit card. Almost all car rental agencies request it from their clients. In addition, they are often required to have a certain amount of money in the associated bank account, which can exceed € 1,000. With us, you will not have that problem: just hire our insurance and leave a small deposit for fuel. That easy!
• No gasoline extras. Holidays are not made to worry about money. Our proposal is simple: receive the car with a full tank and return it as is. How about that?
Slide
• Second free driver. Although Majorca is not an especially large island, its 623 km of coastline invite you to explore them thoroughly. We have also thought about that: so that you can relax with a companion while driving, you can add a second person in the contract, at no additional cost.
• No rates differentiated by age. No matter what your ID says or what your experience as a driver is: for Roig, all customers are equal. If you are young, you can forget about paying more.
• Pay when picking up the vehicle. Can you imagine having to pay your purchase before taking the products from the supermarket? With Roig, you can make the payment upon delivery of the car, without hidden costs or surprises.
• Modify or cancel your reservation for free. We can all experience an emergency. In order to solve them without thinking about anything else, we will not charge you a penalty if you are forced to cancel the vehicle rental. The cancellation of reservations with online payment is free up to 24 hours before the start of the reservation.
• GPS at the best price. Who has not got lost on the road? If you don't want to make any unnecessary turns, you can get a GPS at the lowest price in the market. Take the test: it will surprise you!
OTHER BENEFITS AND RENT A CAR DEALS
Do you need more reasons to choose our rental cars in Majorca? If so, you will love to know that you have a free 24-hour assistance service, so that you can devote all your attention to everything thare is to see in Majorca (without going any further, its exceptional beaches and coves).
In addition, all our prices include basic insurance with excess, without surprises or hidden costs. The reason? Our transparency policy: at Roig, we always defend the rights of consumers and we make sure that you know what you are going to pay at all times. Therefore, we have obtained the Seal of Good Practices from the Balearic Government.
BOOK YOUR RENTAL CAR IN MAJORCA
Have doubts? Do you want to know more about our car rental in Palma or other locations? Do you need a transfer to the airport or go from there to Andratx, Magaluf, Alcudia, Picafort, Cala d'Or or other island towns? If so, do not hesitate to call us. We are available at (+34) 971 65 71 73, from 08:00 a.m. to 8:00 p.m. continuously.
If you prefer, you can send us your questions about our rental car deals in Majorca by email, writing to info@roig.com. We will answer you as soon as possible.
In ROIG, we have been working since 1953 to make your trips around the island easy, comfortable and economical. With our car rental offers in Majorca, you have no excuse not to get to know one of the main tourist destinations in the Mediterranean. Make your reservation today and run to prepare your suitcase: we take care of everything else.
Reviews