Transport services for congresses and conferences in Majorca
We know that most of the 32 million tourists who decide to travel to Majorca every year do so attracted by its more than 300 beaches and coves, its countless leisure and culture options, its 300 days of sunshine every year, the spectacular nature of the Sierra de Tramuntana … However, and increasingly, the events calendar in Majorca offers a new incentive to pack your bags and set sail to this corner of the Mediterranean. For this reason, at ROIG Rent a Car we have created a transport service for congresses and conferences in Majorca designed for you and your company.
In addition to being a unique holiday destination, Palma de Mallorca, the insular capital, is also a strategic point for business tourism. Not only does it offer first-class hotel infrastructure, or an inexhaustible architectural and artistic heritage, but for any after-work plan: without going any further, the city also has a host of facilities designed for the celebration of press conferences, presentations, fairs, exhibitions, congresses and conferences in Majorca, as well as incentive trips.
A good example is the Palma Convention Center, the Randa, L'Ofre and Tomir VIP rooms and other facilities for conferences and business meetings. Another remarkable place is the brand new Illes Balears Auditorium, one of the main venues of the Palace of Congresses of Palma, equipped with nine rooms, two of which – the Sala Magna and the Sala Mozart – have a theatre structure. This is just a sample of how much Majorca can offer you. And at ROIG, we want to be up to the task, providing the only comprehensive transport service for congresses and conferences in Majorca.
Apart from our car rental in Majorca, our taxis and our rental coaches are also at your service, ready to turn any business trip into a success. Below, we tell you all the details, and why this can be the providential ally for your (MICE) business trips in Majorca.

What does our comprehensive transport service offer for congresses and conferences?
Undoubtedly, organizing events in Majorca will be a success. Yes, in the same way that the setting and facilities are exceptional, road transport service must also be up to the task. It is not enough to present an innovative product, choose the best speakers for a conference or design an impeccable coffee-break, if one of the key aspects fails: logistics. Luckily, ROIG Rent a Car is ready to help everything run smoothly. An indispensable aim so that event organizers can transmit a modern and professional image. 
In ROIG, we have been providing you with the best solutions for passenger road transport since 1953, being the only company in the Balearic Islands that offers all services. Find out how we can lend a hand when organizing an event in Majorca.
Car rental in Majorca
This option is ideal for work meetings or small-scale events, with few attendees (or with participants who want to move with maximum freedom and independence). In ROIG, you will always find the model that best suits your needs. You can even rent luxury cars in Majorca, with or without a driver, so that the comfort of your business event attendees is assured. And for total comfort, we can take your rental vehicle to the airport. This way, you will be able to pick up your rented car just after landing in Son Sant Joan, so that neither you nor any other attendants waste a single minute. Also, with the rental of your car we give you free roadside assistance service, 24 hours a day, 365 days a year. Can you ask for more?
Bus rentals in Majorca
The more the merrier. Or what is the same: the more, the better. This statement can be a challenge, but it does not scare us. And we hope it does not scare you either! If you foresee that your next congress in Majorca will be crowded, at ROIG we take the ball and accept the challenge. With our bus rental service in Majorca, group transfers will be guaranteed. Get timely, comfortable transfers, supported by a leading company. The capacity of the vehicles will not be a problem either, since we have minivans and coaches for between 14 and 80 passengers. Do you want even more exclusivity? In that case, try our Premium service, with the best VIP coaches. Of course, and as with our rental cars in Majorca, we renew our fleet annually, so that road safety and the welfare of passengers are always guaranteed.
Discover
Mallorca
Plan your trip around Mallorca with our interactive guide. We know our island well and will be delighted to show you the best routes, beaches and scenery so you can explore the island and enjoy it as much as we do.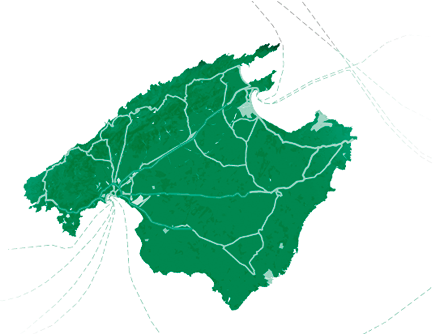 The best taxi service in Majorca
When there is a business event, agility, speed and punctuality are inalienable aspects. For this reason, and in order for this aspect to be the last of your last worries, we offer you a private taxi service from Palma airport, as well as from Palma to the airport (or from any other location), with experienced drivers on board of the best Mercedes-Benz models.
Excursions in Majorca
If you want your guests to get an even better impression of this experience of the island, we encourage you to discover our travel agency in Majorca, with which you will enjoy the best organized trips around the island.
We are at your disposal at the airport of Majorca and in the main tourist destinations of the island: Cala d'Or, Santanyí, Portocolom (or Porto Colom) and Cales de Mallorca. Come and meet us!
Book your transport service for congresses in Majorca
If you want to know more about our transport services for congresses and conferences in Majorca, we are at your entire disposal. You just have to contact us by calling (+34) 971 65 71 73, from 08:00 h to 20:00 h, or by sending an email to the following address: info@roig.com. As always, we will be happy to attend you, guide you and always offer you the most appropriate solution, with honesty and professionalism.