Rent a camper van in mallorca
Do you want to live a unique experience in the largest of the Balearic Islands? If you want to travel around Mallorca in a van and enjoy the magnificent Mediterranean nature, ROIG Rent a Car offers you a unique opportunity. Thanks to our collaboration with Mallorca Campers, you can now choose a Peugeot Rifter campervan and experience the island in a different way.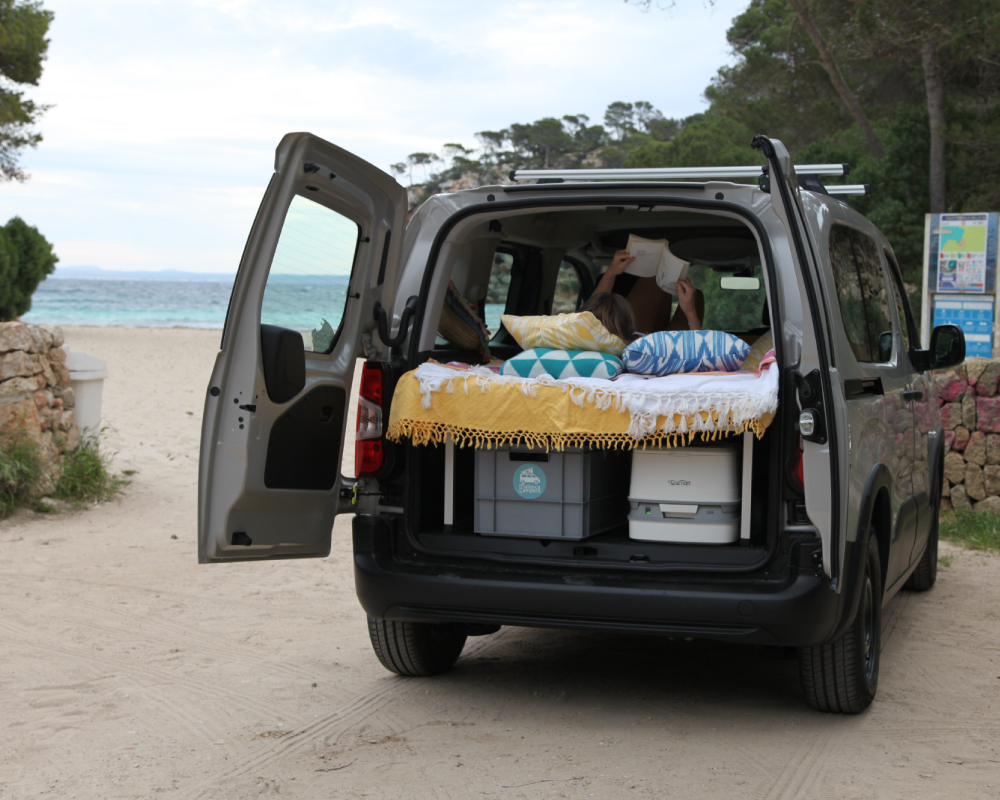 Choose the best camper option for our Peugeot Rifter
At Roig Rent a Car, we offer you two different ways to camperize our rental vans. Choose between one of these three options to sleep anywhere on the island:
1. Peugeot Rifter with roof tent
Sleep under the starry sky by booking your rental van in Mallorca with a roof tent. This option includes the railing fitted to your Peugeot Rifter, a roof tent, mattress for two people and a ladder so you can climb up to your tent comfortably. Not only this, but the tents are offered already fixed, so you don't have to do it yourself.
2. Peugeot Rifter with MiniCamper bed
Do you prefer to sleep inside your vehicle? This camper van option is another ideal choice to enjoy the best of the most beautiful Mallorcan landscapes from the comfort offered by this camper van. This pack includes a removable structure, mattress 1.20 metres wide by 1.90 metres long.
3. Peugeot Rifter with roof tent + minicamper bed
An ideal option for families is to combine both camper van options. As well as saving money, you'll have enough space for up to 4 people to sleep in your Peugeot Rifter campervan.
All options include a full cleaning and disinfection service. Not only this, but if you are a larger group, you can also choose both options.
How much is a camper van rental in Mallorca?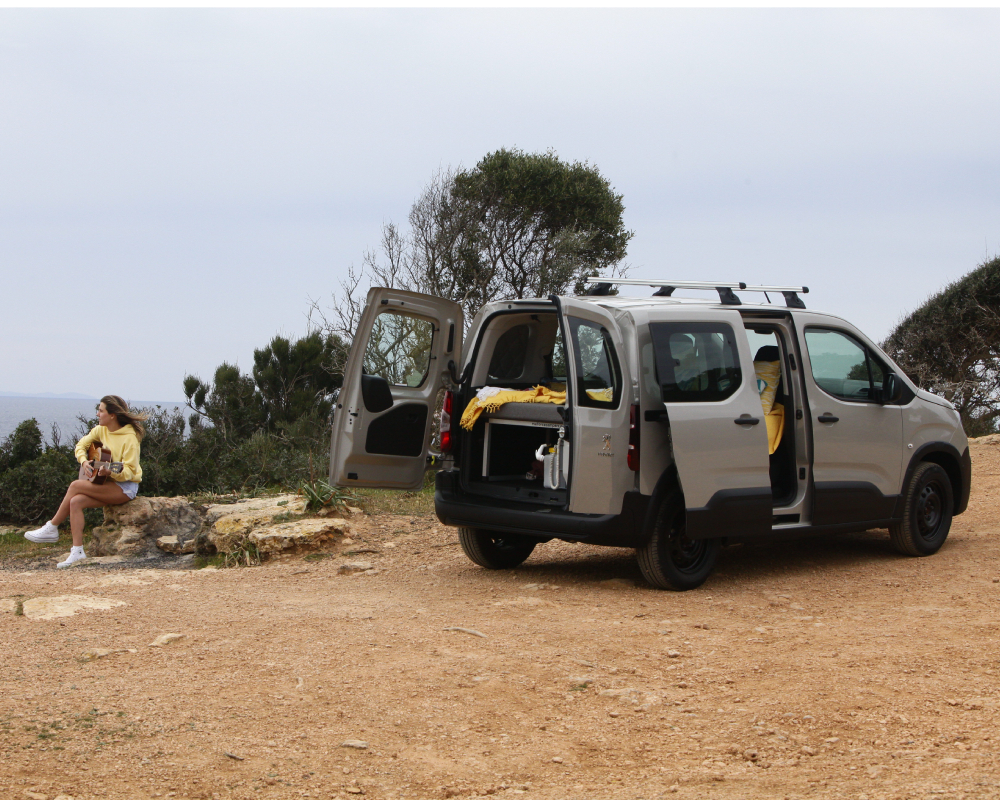 As you can see, prices vary depending on whether it is low season (November to April) or high season (May to October), and the type of insurance taken out for the Peugeot Rifter. The basic insurance includes an Excess of 1200€, while the All Inclusive option will cover your vehicle in full, excluding any damage caused to the tents or Minicamper beds.  
On the other hand, the weekend prices are All Inclusive. Weekend packs are for vehicles collected on Friday from 17:00h and returned on Sunday before 18:00h (2 days). For rentals of more than 3 days, the price will be established per day of rental according to the type of insurance and season. 
Conditions for campervan rentals
Under no circumstances does the All Inclusive insurance cover damage to Mincamper tents or beds.
Minimum age of 21 years and 1 year of driving licence.
Pick-ip and return at our offices in Cala d'Or or Son Oms.
A credit card will be required for rentals with B.I with excess to block the franchise (1200€) on the card.
El titular de la tarjeta deberá figurar en el contrato de alquiler.
 Rentals with all-inclusive insurance can be paid by debit card.
No matter the insurance that is taken out, an amount of €80 for petrol will be blocked on the card presented, which will be refunded at the end of the rental contract after checking that the vehicle's fuel tank has been returned full (as it was handed over). 
Discover the rest of our general rental conditions for rent a car on our website.
Reviews
Our rent a car offices in Mallorca
Come and pick up your long term rental car at any of our offices.