DestacadoflotaTransfer2022EN
Cancelaciongratuita_2600x762EN
ProtocolosdeHigieneyLimpieza_2600x762EN
Bus and minibus rental in Alcúdia
Do you want to travel in time? There is no better way to do so than a holiday in Alcúdia, a medieval town located in the north of Mallorca that will make you fall in love. If you plan to travel here with friends or with work colleagues, Roig gives you the opportunity of booking its bus and minibus rental in Alcúdia.
Created in 1953, Roig is the leading company in passenger transport. Hence, in addition to providing your car rental service in Majorca, we also offer other mobility solutions, such as a taxi from the airport to Alcúdia or other points of the island, or even a rent a car service with a private chauffeur. Can you imagine it?
We are the perfect choice for events: hen/stag parties, business meetings, presentations, family celebrations such as anniversaries or weddings … We invite you to check it for yourself, and enjoy a close, professional service, adjusted to your demands and needs and at a good price.
What to see in Alcúdia
Alcúdia is an attraction of its own. A statement that you will be able to verify in situ, walking along its streets full of charm or climbing its walls built in the 13th and 14th centuries. From this privileged viewpoint, you will contemplate the nearby town of Port d'Alcudia, a fishing town, and the impressive Sierra de Tramuntana, declared a World Heritage Site by UNESCO in 2011.
One of the flagships of this small town is the Sa Bassa Blanca Museum, an institution that opens its doors in a protected natural space and exhibits around 150 portraits of children from the 16th and 19th centuries.
History lovers can also take a trip to the ruins of the Roman city of Pollentia, dating from the 2nd century BC., which is considered the most important archaeological site in Mallorca.
If you like nature, you can take a trip to the S'Albufereta nature reserve, the third wetland on the island which is famous for its great variety of ornithological fauna. To get there, you have the option of hiring our bus tour service in Mallorca, or you can arrive on your own in Roig's rental minibus or bus, with or without a driver.
This proposal is also ideal to approach the beautiful town of Sóller, surrounded by fruit tree plantations, or the Charterhouse of Valldemossa, which was the residence of Majorcan kings in the fifteenth century.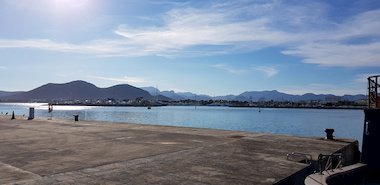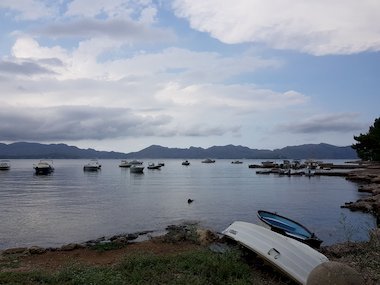 Advantages of renting coaches and mini-buses in Majorca with us
There are many reasons why we recommend hiring buses in Majorca with our company. Take a look!
• A large fleet of coaches. Are you looking for an efficient group transport solution? If you trust our team, you won't need to worry about the size of your group as we have vehicles between 14 (minibuses) and 80 seats. Book the one that best suits you, from a minibus to more spacious vehicles.
• Enjoy a constantly renewed fleet. Your comfort and safety comes first. Therefore, we offer you the most modern coaches on the market, with the latest technology and all the comforts you need for long road trips.
• Maximum security. In addition to having the latest mechanical and technological advances, we conduct periodic checks on all vehicles.
• The best luxury coaches. Although we guarantee maximum comfort, if you are looking for something really special, be it for a business meeting, a wedding or any other outstanding event, then there is nothing better than our VIP coaches.
• We deliver your coach upon your arrival in Palma. We want you to make the most of your getaway to Majorca. Therefore, if you wish, we will be waiting for you at Palma airport to take you to your vehicle. It's as simple as that!
• Free cancelation of your booking. So, in case of an unforeseen circumstances or a change of plans don't ruin your holiday, if you need to cancel your reservation, we won't charge you any cancelation fees. We only ask you to let us know as soon as possible.
• Adapted buses. We offer passenger transport solutions for everybody. If you want to book a bus adapted for people with reduced mobility or older passengers, just let us know.
• Personalized service. Our individual welcome and professional customer service is one of the factors that sets us apart. Get in touch with us and explain what you need. We will offer you the highest quality option that best suits your needs and your budget.
• Experts in transporting visitors since 1953. We are not only the leading road transport company in Mallorca: we also guarantee the highest quality vehicles and services, so that your holidays in the Balearic Islands are simply unbeatable
Discover
Mallorca
Plan your trip around Mallorca with our interactive guide. We know our island well and will be delighted to show you the best routes, beaches and scenery so you can explore the island and enjoy it as much as we do.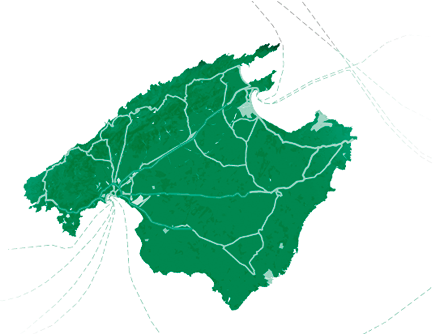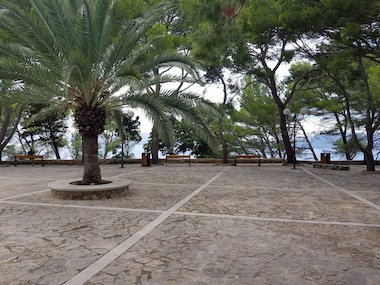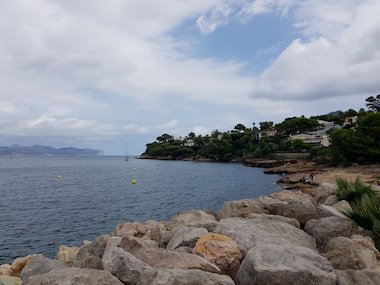 What to do in Alcúdia
Majorca is an invitation to live the Mediterranean intensely. To enjoy it, there is nothing better than the beaches and coves near Alcúdia, such as Playa de Muro, or the beaches of Sant Joan, Sant Pere, S'Illot, Sa Calobra or Cala Mesquida. In any of them, you will find the calmness and tranquility that you deserve in your holidays in Majorca.
And since you are going to travel in a rental bus through Alcúdia and its surroundings, why not also do a group activity? For example, explore the bay of Alcúdia by boat, which will allow you to live the Mediterranean intensely and access some of the most secluded and wild coves of Majorca.
On the other hand, it is worth bearing in mind that Alcúdia has spent more than three decades investing in active tourism and, specifically, outdoor sports. For example, you and your family can visit the Majorcan geography trough hiking trails or Nordic walking, two very popular activities, especially in spring and autumn. Of course, summer is the best time to get rid of adrenaline with water sports.
If you are going to travel as a family to Alcúdia, our advice is to spend a day at the Hidropark, a water park that will delight the children in your group.
Do you fancy spending an afternoon shopping in Alcúdia? In that case, we recommend you visit the Alcúdia market, which takes place on Tuesday and Sunday morning, between 8:00 and 2:00 p.m. In addition to Majorcan typical foods, there you will also find crafts, accessories and, in short, the perfect souvenir of your trip to Alcúdia.
All these proposals are at your fingertips with Roig's minibus and bus rental service in Alcúdia. In addition, you can also book a transfer from Palma airport to Alcúdia, or the journey in the opposite direction, for large and small groups and with the possibility of paying the trip in cash, by credit card or bank transfer. It can't get any easier!