Transport for stag and hen dos in Mallorca
Can you hear those wedding bells chiming? If your best friend has decided to tie the knot, I'm sure you're looking forward to the preparations for one of the most fun events that will precede this great day: the hen or stag do. Let the bachelors and bachelorettes of the world prepare themselves, because Majorca is not only the ideal place for its inhabitants to celebrate this classic prewedding party, but the largest of the Balearic Islands is also ideal for groups of friends from all over the world whom would like to prepare a weekend that they will never forget. In order for everything to run smoothly, we will explain why ROIG Bus is the ideal solution when you are looking for transport for your stag or hen do in Majorca, whether you want to rent a bus, a luxury car or a van.
Stag and hen parties in Palma de Mallorca
Your best friend has decided to bend the knee and now it's time for you and your colleagues to prepare that memorable stag or hen party you have always imagined. To do this, you can choose from a large number of options, but which one is the best? Palma de Mallorca is ideal to celebrate a stag or hen party, since it boasts many activities to have a great time, a port so you can sail the seas in style to say goodbye to your friend's singlehood, an endless choice of restaurants where you can regain strength and many clubs where you will surely find your style.
Whatever option you choose, ROIG Bus will be your best ally for stag and hen dos in Majorca. How? Offering you a comprehensive service for all your transfers and transports in Majorca. Here you can choose between the option that suits you according to the type of hen or stag party you prefer.
To begin with, if you want to have a classy celebration, you will have the ROIG Premium service at your disposal, which offers high-end cars with a driver included so you can move around the island in ultimate luxury.
On the other hand, if you all want to go together in the same vehicle ROIG Bus offers minibuses that have a capacity of between 14 and 16 people. But if your dream stag or hen party involves a lot more people, we have buses available for bachelor and bachelorette parties that can transport between 24 and 80 people.
Do you already know what transport you want for your stag or hen dos in Majorca? Then let's see what else awaits with ROIG.
Discover
Mallorca
Plan your trip around Mallorca with our interactive guide. We know our island well and will be delighted to show you the best routes, beaches and scenery so you can explore the island and enjoy it as much as we do.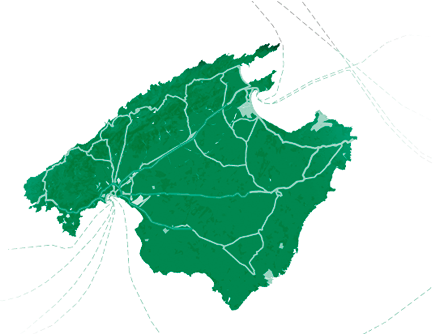 Let others drive you to the most original stag and hen parties in Majorca
We know, Majorca is much more than Palma. In fact, there are many places where you can enjoy the island during a hen do, some that are really original. From a gymkhana through the woods to a boat trip on the Mediterranean or a spa session at the top of the Serra de Tramuntana, ROIG will be there to take you anywhere on the island.
This means that we will be with you from the beginning, starting with the transfer service from the Palma airport to your accommodation or a group pick-up from the point of the island of your choice. From this moment on, the fun can begin. Let our driver know about the plans you have for your party in Majorca and he will take you to each of the places, wherever they may be, and will pick you up to take you to the next stop without further delay.
Forget about calling taxis in the middle of the Majorcan night and depending on companies that only offer a closed circuit, with ROIG you can choose the schedule you want and even let us know if any event or activity is running late and you need more time.
This comprehensive service will have as many stops as you wish and will be completely flexible with your plans for your stag or hen dos in Majorca, so why not choose ROIG's amazing offers?
Get to your stag and hen dos in Majorca on time
When looking for restaurants for stag and hen dos in Majorca, they often offer you a reserved space, so it is no wonder that you want to get there on time. The same happens if you have booked a show or you must arrive in time to catch a flight, so it is important to choose the transport company with which you will do your transfers during your stag or hen do. Thus, we recommend you trust in ROIG'S services, a company with more than 50 years of history.
And what else CAN we offer you that other transport companies for stag and hen dos in Majorca can't? To begin with, you will always have a fleet of taxis, vans, minibuses and buses of the highest quality. Our vehicles are renewed every year so you can always enjoy the latest models. In addition, we offer you the possibility of being driven in the maximum possible luxury in our high-end vehicles, which include the best brands in the market.
Booking is very easy. Tell us the date, time and route you want via e-mail and we will give you a closed budget. Once booked, you can cancel without incurring any extra cost up to 48 hours before the service is due to begin.
At ROIG our work philosophy is to offer maximum transparency, so you will not find hidden expenses. We want stag and hen dos in Majorca to be a moment to remember and that is why we try to give each of our clients a close and professional treatment, which is why we have the most experienced drivers on the island.
So that's all, now you can book your comprehensive bachelor and bachelorette party services in Majorca with ROIG, your reliable transport company, so you only have to worry about having a great time. You will not regret it.