The largest of the Balearic Islands is one of the Mediterranean destinations that attracts more people year after year, and it is not surprising. With more than 360 beaches and 53 municipalities to stay in, it is normal for many visitors to have doubts during their holiday planning. Find your little piece of heaven discovering the best areas to stay in Majorca, with ideal options for all types of travelers, whether you visit the island with your partner, with the whole family, with friends and even if you want a winter break. Find out below!
The best areas in Majorca in couple
Tranquility, intimacy and the sound of the waves: these are the essential aspects that the best areas must have to visit Majorca as a couple. Among all the options, some of the most romantic and that will allow you to discover the island with your rental car in Majorca are the following.
Cales de Mallorca
If you want a place with all the necessary services to spend a holiday comfortably but still want to be close to some of the most beautiful virgin coves of the island, Cales de Mallorca, in the municipality of Manacor, is your ideal place. Discover Cala Domingos, with more than 11 km of beach that are divided into two: Es Domingos Grans and Es Domingos Petits. Here you can check the incredible turquoise color of the Majorcan waters and spend a day sunbathing. On the other side, we find Cala Murada, surrounded by beautiful rock formations and even a cave that was excavated thousands and thousands of years ago.
Portals Nous
If you want to stay near Palma de Mallorca, but continue enjoying the tranquility and exclusivity, Portals Nous is the place for you. Located in Calvià, it is a small town that spells the word "sea" all over. On the beach of S'Oratori, located in front of a small islet, you can decide if you want to relax quietly, have a drink in one of its small beach bars or practice activities such as kayaking, water skiing or paddle surfing.
As if this were not enough, in the neighboring Port Portals you will find a marina where you can sail the sea on a yacht, while in the town of Bendinat, you can play golf quietly in one of the best known courses on the island.
Colònia de Sant Jordi
If you are looking for the natural beauty that Majorca has to offer, Colònia de Sant Jordi is one of the best choices. Located on a small peninsula, this enclave was an old fishing port, and it was not until the 1950s when tourism began to develop in this area. Testimony of life in this place are the different prehistoric villages that are in its vicinity, such as Es Mitjà Gran or Es Talaiots de Na Mera. But let's move to the coastal area, where you can choose between several quiet beaches where you can relax, among which are Es Trenc, Ses Covetes or Es Dolç.
Also, if you are looking for trips around Majorca, you cannot miss one at the Cabrera National Maritime-Land Park. Here you will discover hidden caves with amazing colors, endemic fauna the most picturesque islets.
Escorca
If you want to enjoy both the mountain and the beach in an unknown place, we recommend this municipality that is located north of the Tramuntana mountain range. Although it is not located on the seafront, a few kilometers away you have the incredible beach of Esorca and the Torrent de Pareis, one of the most impressive natural areas in Majorca. Perfect if you love cycling, you can also visit some beautiful lakes and the Lluc sanctuary.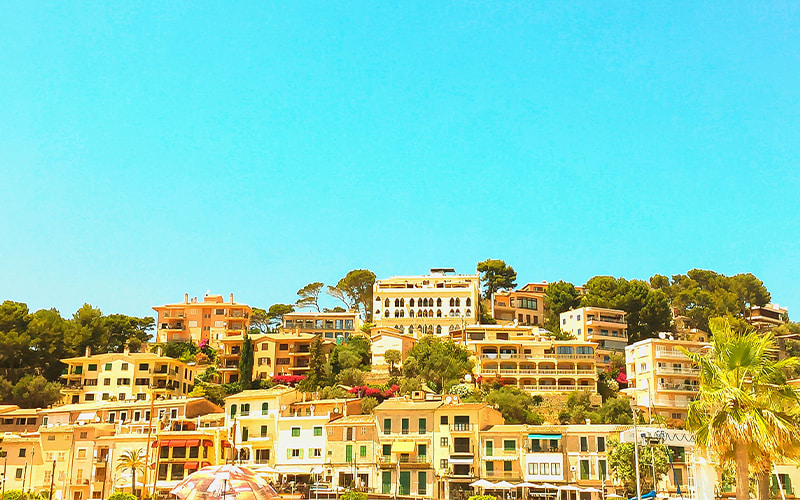 The best areas of Majorca for a holiday with children
Spending a holiday in Majorca with children is an excellent option. The reasons are its calm waters, its wide sandy beaches, and a large number of activities specially designed for the little ones. Thus, let's see the best areas to stay in Majorca that you can enjoy with your family.
Platja de Muro
Known as the longest beach in Majorca, with shallow water and fine sand, Platja de Muro is one of the ideal places to stay with children. It is located between Port de Alcúdia and Can Picafort, two holiday villages with all the necessary services. In the center, we find the Natural Park of S'Albufera, perfect for a group excursion on foot or by bike and enjoy the nature of the place.
Pollença
If you want to enjoy an authentic Majorcan town without having to give up on coastal charms, Pollença is the perfect option. It is located just 13 km from the coast and offers a unique spot. Discover its rich history by visiting its Roman bridge or the ancient buildings called Talaiots, or climb the Puig de Pollença, from where you will have unique views. A few kilometers away you will find Port de Pollença, the tourist center where you will enjoy three beaches and a fishing port where you will get to know the typical Majorcan boats, llaüts.
Santa Ponsa
Let's move to the southwest of Majorca, to this coastal town that is presented as one of the best areas to stay in Majorca. This statement is completely justified, both for its great natural appeal and for the amount of activities you will find nearby. Here, each family member will find their favorite corner; while adults can enjoy the golf courses nearby and the famous weekly Saturday market, the kids can play on the big beach and even try some of the water sports offered here.
Santanyí
On the other side of the island we find the last of these ideal places for children. It is a town that still retains part of its rural charm and a natural environment worthy of this corner of the Mediterranean. For a calm holiday, here you will have the opportunity to take a trip to the beautiful Cala Figuera or an excursion to Aqualand, a water park that is only 20 minutes away and that will delight children during the hottest days.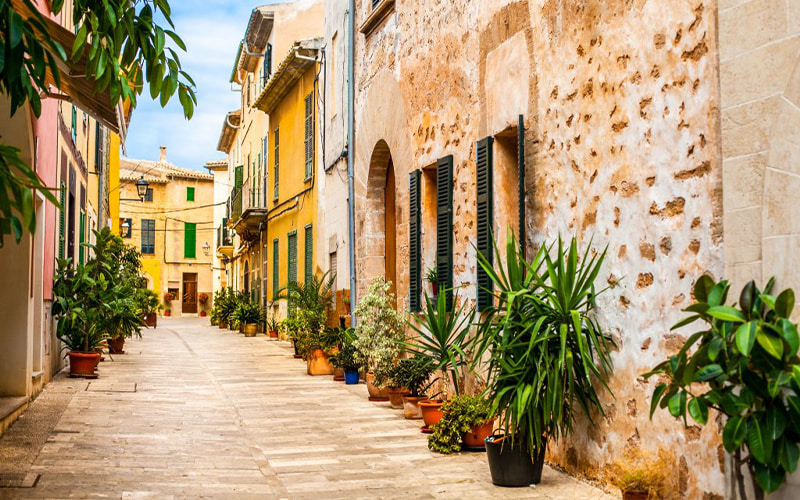 Staying in Majorca with friends
The largest of the Balearic Islands is also an excellent place to meet with friends and spend some unforgettable days together. Here are the best areas to stay in Majorca with friends:
Cala Ratjada
This small town in the northwest of the island is located in the municipality of Capdepera and is presented as an ideal oasis to share with friends. Known for being the port from which you can embark towards neighboring Menorca, here you will find the beautiful Cala Agulla, perfect for a boat trip and even practice water sports calmly. In addition to this, you can also visit Cala Mesquida, another beautiful corner that is ideal for a rest.
Alcúdia
This picturesque town is ideal as a base for cultural tourism in the area. Stroll between the stately homes of its old town and its medieval walls, try the typical homemade sobrassada of the island during the traditional market that is held on Saturdays or visit the Sa Bassa Blanca museum, with incredible sculptures and an extremely photogenic garden. In the bay of this municipality you can take a sailboat excursion in the area, ideal to enjoy a picture-perfect sunset.
Cala Millor
The name of this place (millor means 'better' in Catalan) gives us an idea of why it is one of the best areas to stay in Majorca. This fishing town offers travelers that paradisiacal corner that they had imagined. In this resort, you will find everything, in addition to having some of the most interesting caves in Majorca such as Coves del Drach at your fingertips.
Palma Nova
If you want to have fun with your friends, party and still avoid the madness of Magaluf, one of the best areas to stay in Majorca with friends is Palma Nova, close to the main leisure centers. You will have a great time playing fantasy miniature golf, strolling through its marina or its tropical gardens as well as being able to rest on the beach of Son Maties, where you will meet new people while playing beach volleyball. For all this and much more, it is one of the best places to stay and find countless ideas for bachelor parties in Majorca.
Where to stay in winter
Although we associate this Mediterranean island with summer, the reality is that it offers a lot during the 365 days of the year. From events to traditional festivals, there are many reasons to visit Majorca in winter, and these are the best places to stay.
Sóller
One of the most beautiful villages in Majorca is Sóller, which you can reach with the historic tram. Staying here in winter means that you will not have to endure large crowds and you will be able to get to know this town at your leisure. In addition, cyclists can also enjoy Coll de Sóller and hikers will take advantage of a route along the Pedra Seca route.
Valldemossa
If you like agrotourism, there is no better place than the beautiful town of Valldemossa. Located in the middle of the Tramuntana mountains, it will not take long to discover why Chopin decided to spend time here. From this point you can explore the Tramuntana mountain range by car to see this beautiful place, which was declared World Heritage Site by UNESCO. If you visit the island in winter, these places are one of the best options if you wonder what to do in this season.
Deià
Do you know that many celebrities choose Deià year after year as their favorite destination? One of the best areas to stay in Majorca in winter is this town where you will find an oasis of tranquility to inspire you. Feel like Ava Gardner and take a leisurely stroll through its cobbled streets and taste the best of the traditional cuisine of the island.
Palma de Mallorca
Of course, the capital of the island presents a large number of cultural, sports and leisure activities that will allow you to spend an excellent holiday even in winter. Not only can you discover the best fresh produce from La Llotja or go on a shopping spree in its main commercial streets, but you can also take a taxi in Palma de Mallorca to climb the amazing Bellver Castle.
Get to the best areas to stay in Majorca with ROIG, your reliable car rental company, which is at your disposal to make your holiday absolutely exceptional. Discover our fleet of rental cars here!